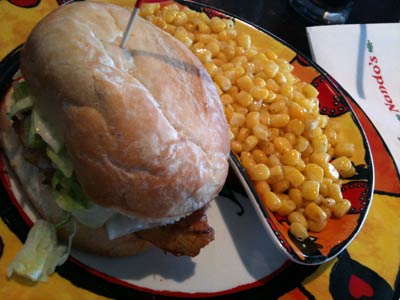 I've been eating healthy for nearly 3 months now and so far I've lost 5KG dropping my weight down from 89KG to 84KG. As my height is 186cm that puts my BMI at 24.3 which is where it should be. Keep in mind I wasn't planning on losing weight with my diet, I just had to stop eating some types of food due to my acid reflux problem and the weight loss was just a bonus. I am still eating whatever I want I just have stayed away from two things, fried food and fast food. It was difficult in the beginning because I used to have fast food for lunch every day but once I found a replacement things became much easier. I no longer feel like eating junk food, I actually can't stand it now.

I've already posted about two places which I've started eating at, Salad Creations and Macaroni Grill. Another place I've started going to is Nando's. I passed by the first time after they started advertising on my blog and since then I've started popping in once a week for lunch. I haven't tried many dishes there because I'm hooked on their Chicken Burger. They have 4 types of marinated chicken, I tried mild the first time but it wasn't too spicy for me so I took it hot the second time and now thats how I always have it. The chicken is grilled which fits in my diet and the dish comes with a side order of your choice. I tried the corn kernels (pictured above) but I didn't like it, my favorite side order is their coleslaw which is really good. The dish is KD2.250 which fits nicely in my daily lunch budget. Sometimes I have the Perri-Perri Hommous which is hommous with their spicy sauce, also very good. I think thats for KD1.500. Anyway they're located at the Avenues in the back near Macroni Grill and Chili's.
There is another place I have lunch at often and want to post about but I am worried if I do the place will start getting more packed and they might increase their prices so I am still thinking about it.