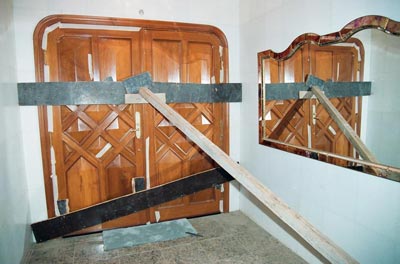 Two weeks back I briefly posted the photo above and spoke about a Kuwaiti resistance fighter who had survived an Iraqi execution during the 1990 invasion and was hidden in that home. Well I got to meet the guy today and I heard the full story which I thought was extremely interesting to share. He wants to remain anonymous so I will be calling him Hamad in the story.
During the 1990 invasion Hamad and his friends became part of the Kuwaiti resistance. Once night one of the friends went missing while transporting some ammunition. No one knew what happened to him but 12 days later Iraqi soldiers came looking for Hamad and his friends. Their friend turned out had been captured and tortured. The soldiers captured Hamad and his friends and took them to a detention center in Jahra. For the first three days they were left blind folded sitting on the floor of a corridor with their hands tied behind their backs. Soldiers walking by would kick them and they were left without food. They were then moved to cells and they were tortured for two weeks straight.
After two weeks they were told that orders were issued to set them free and they would all be going home. Hamad and his friends along with a few other prisoners were shoved into a small van blindfolded with their hands tied behind their backs. One of the prisoners blindfold was loose so he could see where they were going and kept updating the rest of the guys sitting in the back of the van. Finally they arrived to Dasman palace and the doors of the van were opened. The Iraqis told them they would be splitting them into groups and dropping them off based on location. First location was the city and Hamad and his two other friends told the soldier they lived there. So three of them still blind folded and chained where put into a rear seat of a car and driven to the city. On the way the Iraqi soldier driving was asking them questions like what was the first thing they would do when freed and how they were feeling now that they were being freed etc..
Finally they get to the address of one of the guys and they all get taken out of the car. The Iraqi soldiers then force them down to their knees. Hamad hears one of the soldiers loading a weapon so he realized what was about to happen. He starts praying loudly when the soldier fires a bullet into the head of his friend. Hamad realizing he was about to die next decides he wants to die quickly and so lowers his chin so that the bullet goes through the back of his head. As he does that the soldier fires the gun and the bullet hits Hamad's head and he falls down face first onto the floor. The third bullet gets fired and his friend goes down. Hamad heard that shot and realized he was still alive. The bullet had grazed him. Then to make sure all three were dead the Iraqi soldier fired a second bullet into Hamad's friend on his left. The soldier then fired a second bullet into Hamad's head but the bullet again miraculously grazed him again. Finally the soldier fired a bullet into the second friend and then unchained the three of them and left them dead.
At first Hamad thought they must have used fake blood and bullets just to scare them. He whispered to his two friends to stay down and not to move until they were sure the Iraqis had left. A few moments later he got up and was still out of it. He hadn't really absorbed what had happened. He put his hands in the blood and realized it was warm. He smelled it and then felt his head and realized it was all real. He had survived an execution.
Hamad's two friends passed away that day but Hamad managed to find help from a Kuwaiti family in one of the houses nearby who stitched him up and then hid him in an abandoned house who's door is pictured on top of this post. It's a very chilling story but one I thought had to be shared.
If you haven't already done so please make sure you check out the evidence.org.kw where you can find photos of the destruction of Kuwait by Iraqi forces during the 1990 invasion. The photo above is from there and taken by Dr Adel Al-Yousifi.