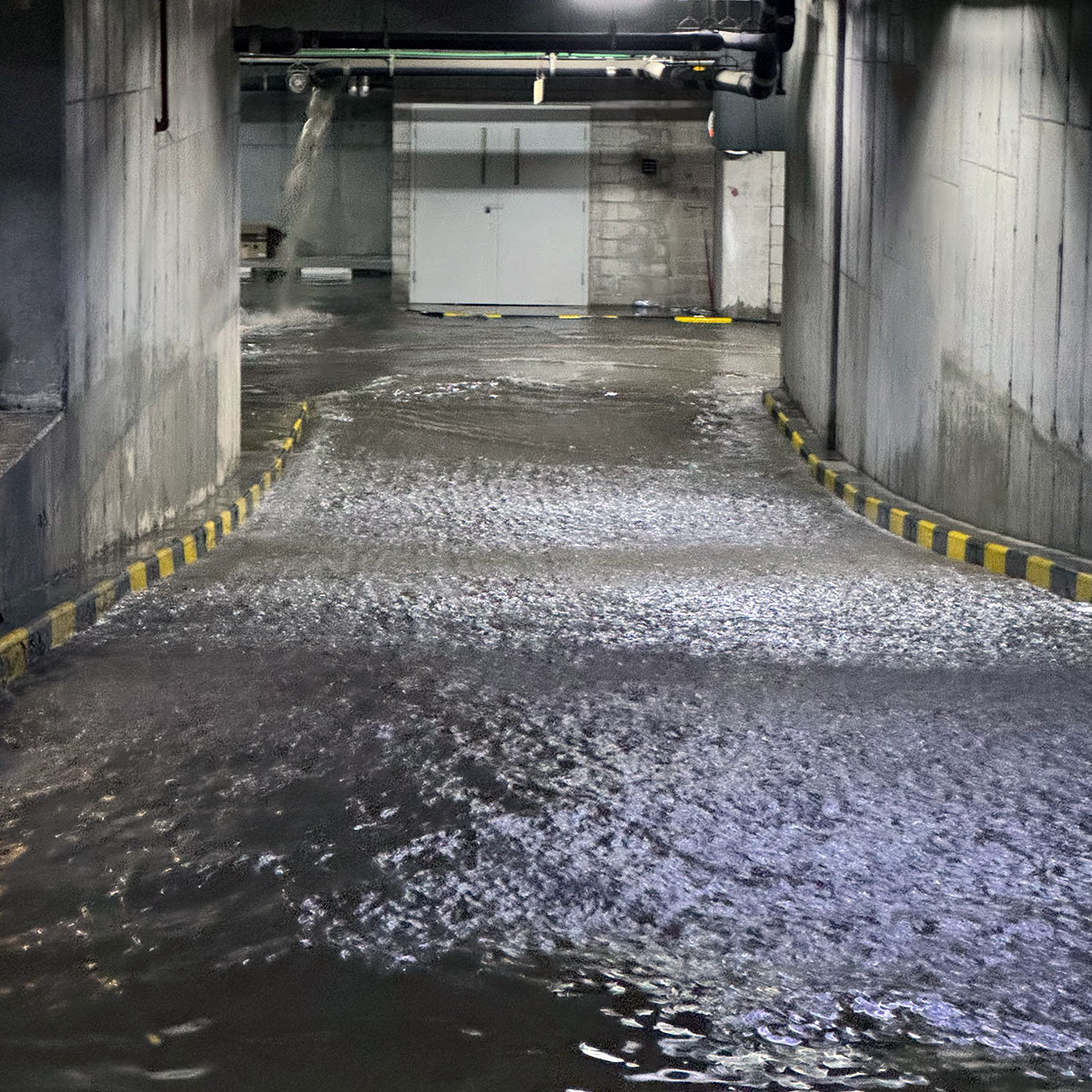 Yesterday I experienced the worst rain I've ever experienced in my life. It was insane, and it feels like it only hit Salmiya.
Last night I decided to walk to Marina Mall but as I left my apartment it started to drizzle and my Apple Watch told me there would be light showers. So went back home, took my car and drove to Marina and then Symphony Mall since I needed to pass by AAB World.
While in Symphony I started hearing loud bangs, one of the shops under construction hoarding was fluttering from the wind. I looked at my Apple Watch and it said the windspeed was 24km/h which wasn't that bad. But then I noticed people starring up at the glass roof and thats when I realized it was raining, heavy.
My car was parked a short walk from the mall and because I didn't have an umbrella, I kinda was waiting for an opportunity to get to my car when I got a call from my building guy telling me I should get home and move my cars because the parking was starting to flood.
My underground parking is 3 basements, the last basement usually floods ankle deep during storms and so I tend to move my cars up to the middle or top level basement. When there is a storm warning, I sometimes move my cars to a multistory lot down the street and park it on the high floors. This time I didn't get any warnings (light showers my ass weather app) and ALL my cars were parked in the most bottom basement.
Realizing the urgency of the situation I ran to my car (getting super soaked in the process) and drove back as quickly and safely as possible. Traffic was moving slow on the Gulf Road but thankfully it was moving. The water was so deep you couldn't tell where the road ended and the sea began. You also barely could see because it was raining so heavily and there was even hail.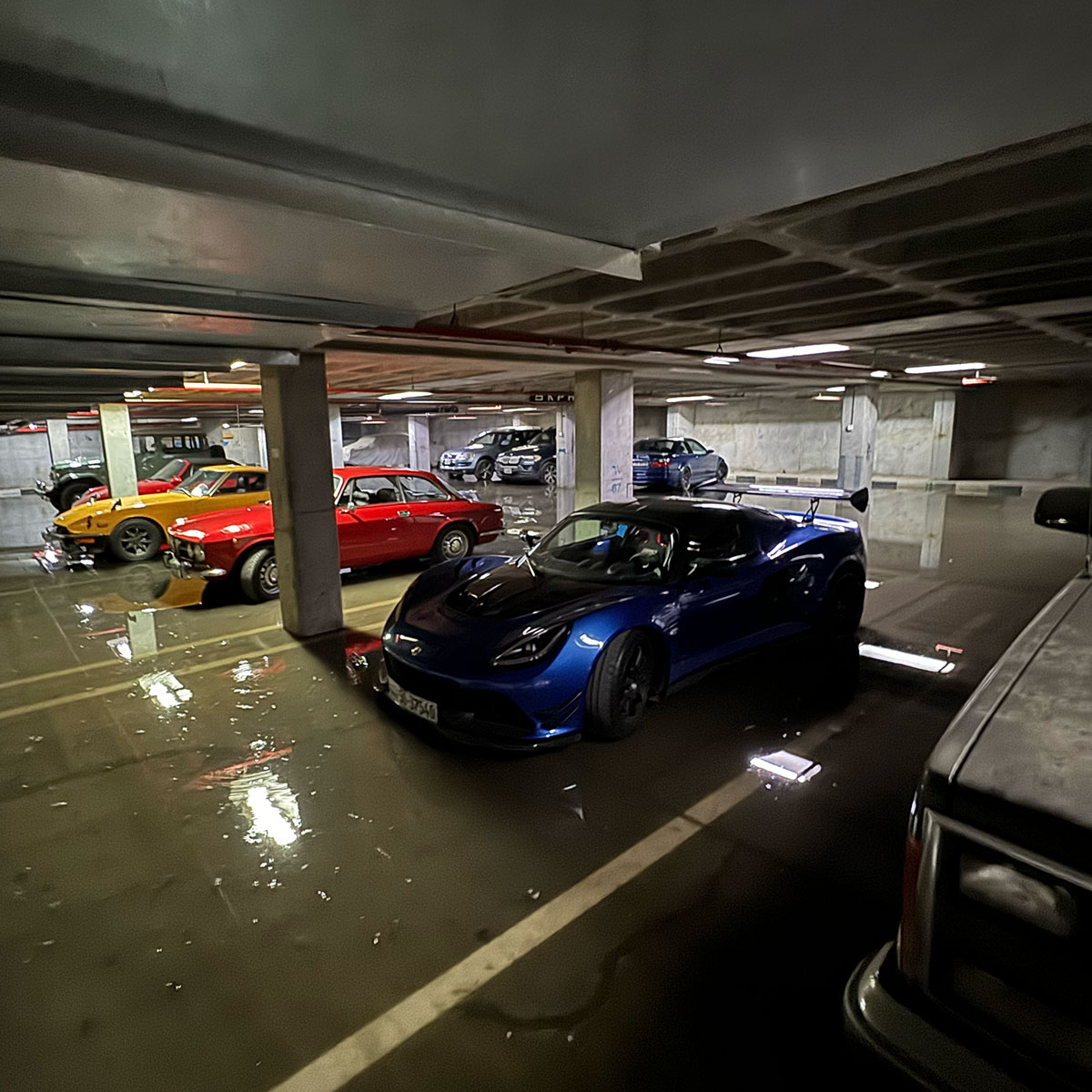 By the time I got to my neighborhood, the rain had stopped but the roads were all flooded but I was in my lifted Hilux so I wasn't too worried (thank you Hilux for being a beast). I knew I didn't have much time, I only had three out of seven car keys with me with the rest up in my apartment, but my priority was the Lotus since it's the lowest of all my cars and I had that key on me. When I got to the basement the water was still shallow but there was a river coming down the parking entrance and a pipe in the basement had burst.
I first moved my Lotus up right away and then I'm not sure how, but I managed one by one to move all my cars up to the higher floors safely. I started with my lowest car and moved to the next tallest car until they were all on the safer higher floors. My Datsun had a fuel leak which I luckily just repaired this past weekend. My BMW M3 had a dead battery but I knew that and had a battery booster with me so managed to start the car easily. Suburban I hadn't started in months and luckily just started. I feel really really lucky all the cars started and I was there in time to save them.
The water eventually got knee deep in the basement to the point even my tall knee high Hunter boots were filling up with water. I actually had four shoe changes starting with the sneakers I was originally wearing, to my water proof ankle hhigh hiking boots, to tall knee high boots to finally realizing I should just be in shorts and flip flops cuz the water was too deep.
I've never seen a storm like this. Sadly one of my neighbors wasn't home and couldn't get his car out in time and it's now half deep in water and flooded on the inside.
After I calmed down and my adrenalin rush subsided, I decided to get online to see how the rest of Kuwait coped. To my surprise, all the drama seemed to have just been in Salmiya. wtf!