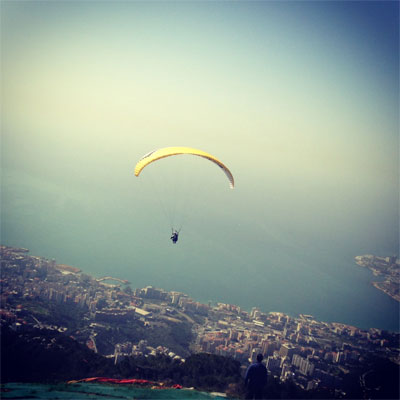 I'm currently in Lebanon for the weekend and earlier today I went paragliding. Now that I've tried it I think everyone should when they visit Lebanon the next time since it's a pretty cool experience. It wasn't something I had planned to do, I was snowboarding with a friend and during a break we started talking and I found out he paraglides. So I told him I wanted to try it and he called his friend up and we booked an appointment for 2PM. Once we were done snowboarding we headed to the take off location which was high up in the mountain above the area Jounieh. The view was obviously spectacular and the weather was fantastic.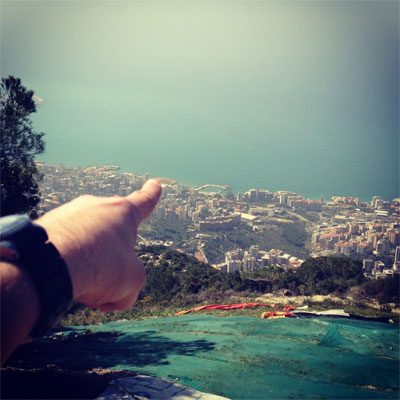 It was me and another girl who were planning to paraglide. It's a tandem flight meaning you fly while strapped to an expert. You start off high up in the mountain and end up down right next to the sea (where I am pointing in the picture above). There was only one expert so the girl went first and I waited for them to land and get back up. The spot we were taking off from is a popular location and right after they left, 3 military men (I think they were French) arrived and also took off in sequence.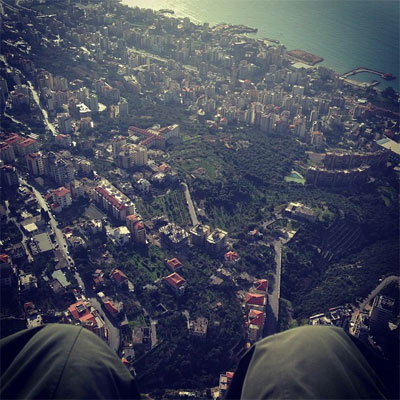 To take off the wind speed and direction need to be right and when it was my turn we didn't have to wait long to go. I was strapped to the paraglider and when he told me run I had to run. Then suddenly just like that we were up in the air. It was an incredible feeling and surprisingly not very scary. The only parts that were freaky for me was when I was Instagramming the picture above live while up in the sky since I was worried I would drop my phone while doing so. The second scary part was when he gave me the controls to fly for a bit. It's pretty simple to work but still the idea that I was flying the thing was freaky. The whole flight took around 20 minutes.
So yeah if you're in Lebanon the next time you should definitely give this a try. The whole experience cost me just $120. To book an appointment call Caroline on +9613559992 or visit their website for more details [Here]