How much are your body parts worth in Kuwait? From a legal perspective and a legal perspective only, according to the Decree on the Regulation of the Table of Blood Money (DIYAH):
If someone hurts you by mistake with no criminal intent then they pay you the amounts listed below. If someone hurts you with criminal intent, then they pay the amounts listed below in addition to also getting punished for the crime.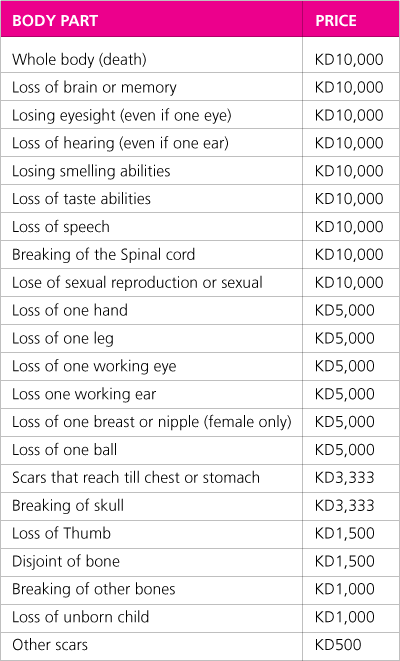 Just a small note, the body parts add up. Death is actually cheaper than breaking an arm, a leg and losing an eye. Some animals cost more than KD10,000 so you would think a human life would be worth more.
Post by Fajer Ahmed – Legal Counsel
Have a Kuwait law related question? Email me at [email protected]
The legal opinions expressed in this post are those of the author Fajer. Opinions expressed by Mark or any other writer on mark248am1.wpenginepowered.com are those of the individual's and in no way reflect Fajer's opinion.