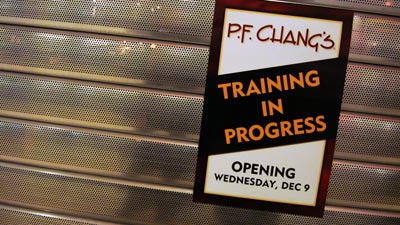 Before I found out someone had broken into my car I was enjoying dinner at P.F. Chang inside the Avenues. They haven't opened up to the public yet, it's just by invite since they're still training and I managed to get one. The first thing that struck me about the restaurant (other than the fact it was packed) was how big it was. According to my friend they're either the largest or second largest P.F. Chang's branch in the world. They're also the 200th P.F. Chang branch to open and only the second to open outside the US. The other international branch is in Mexico.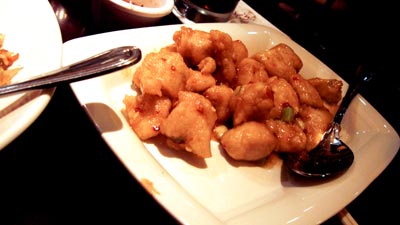 I had the crab wanton for starters which was amazing and then for my main course I had sweet & sour chicken and this other dish that had prawns, melons and walnuts. The sweet & sour chicken looked nothing like the usual ones I have, it didn't have the regular red sauce nor any vegetables or fruits but it still tasted really good (I actually always order my sweet & sour without fruits or vegetables anyway). The prawns and melons dish was a very strange but interesting combination, I can't believe someone actually came up with this mix, very cool.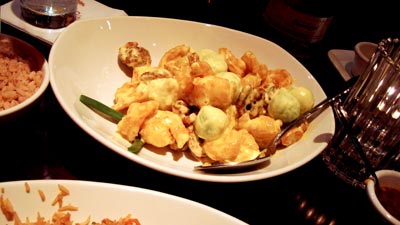 There was a ton of staff in the restaurant since in addition to the P.F. Chang Kuwait staff they've brought in over 20 more staff from the States to help with the training. Paul Fleming the creator of P.F. Chang was even in the kitchen overlooking everything. Our waiter was one of the local staff and was very friendly.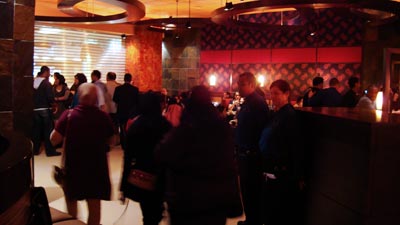 The prices haven't been finalized yet but they're supposed to be even cheaper than what was currently on the menu. The sweet & sour chicken was around KD4.400 and the prawns dish I think KD5.450 so if they drop the price it should be pretty affordable. The quantity of the food was too much and I think they know that because they were quick to offer to pack my leftovers to take home. Too much food is always better than too little. While there I also got confirmation that Shake Shack will be opening up in Kuwait early next year and the first branch will be at the Avenues. It was a pretty nice evening overall until the car incident…