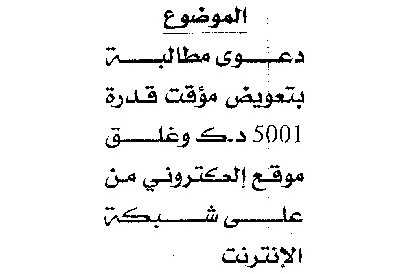 Yesterday I got served with a court order, Benihana are suing me because of my post about my experience at their restaurant. If you haven't read that post yet you can check it out by clicking [Here]
I'm currently getting legal advice from my lawyer Khaled Al Shamali who is actually a fan of my blog (that's important) and I will be fighting this case in court. Originally my lawyer told me not to discuss this case with anyone but I feel it is important to share this with everyone since it doesn't just effect me but the whole blogging community be it in Kuwait, UAE or anywhere else in the region. So after talking to my lawyer again, he's now given me the green light to be transparent and open with everyone regarding this case.
I've uploaded the court order I received yesterday and you can download it from [Here]
The court order is in Arabic but if someone ends up translating it to English I will post it up as well. Benihana have the right to sue me but I don't believe I said or did anything wrong and I stand behind everything I said and wrote in that post.
I've personally been threatened with lawsuits a number of times before, I know another popular blog recently got threatened with a lawsuit from a restaurant as well and I am sure there must be other bloggers who at one point in time have also been threatened. If blogs were recognized like newspapers or magazines we would all be protected from lawsuits like this but at the moment we aren't. I find this unfair and if I end up losing this case what will it mean to all the other bloggers? Should bloggers be afraid to say anything negative about a company? Should all our posts just be happy happy joy joy?
I'm hopefully not going to lose this case and will try my best to win it and set an example so that other companies understand that if they don't like something they read on a blog they can't just sue the blogger.
I've been receiving an overwhelming amount of support on twitter. Honestly as much as I am a geek I never really understood or realized how powerful twitter can be until now. I literally have over 50 pages filled with tweets from people all over the region offering support. It's really unbelievable and a lot and I mean A LOT of people from UAE have also been rallying behind me on this and according to one twitterer (is that the right word?) the Benihana topic is currently trending in the UAE at #8 at #3. A lot of people have also been leaving comments on the Benihana's twitter account @benihana__ and on their Facebook page. But a few moments ago they deleted ALL the comments from their Facebook page but luckily I saved a pdf with some which you can download [Here]. They were actually a lot more than that before they were deleted. a reader saved a screenshot of all the comments which you can see [Here]
So thank you everyone for your support, I will try my best to keep everyone posted along the way on everything that takes place regarding this case.
——————————————-
Update: I just finished an interview with the Dubai Abu Dhabi based newspaper The National. I will also be on air live tomorrow at 11AM Dubai time on the DubaiEye 103.8FM.
Update2: An amazing reader translated the court order to English. You can download it [Here]
Update3: Please no one call and harass Benihanna or their employees. You can show your support in other ways. Thank you.
Update4: The National article on this lawsuit is up and you can read it [Here]
Update5: I'm now on Gulf News [Here] CNN iReport [Here] and TNW Social Media [Here]