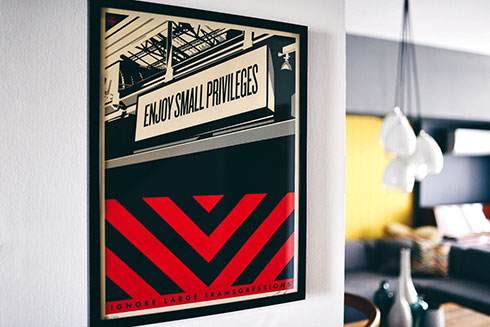 Last week I went looking for an 18″x24″ picture frame for an artwork I had recently purchased. The first place I checked was IKEA but they had European sizes which were either larger or smaller than the size I wanted it. I then decided to check other places like Pottery Barn, The One, West Elm, A2Z, and Ace Hardware but none had the correct sized frame. Out of frustration I decided to ask my followers on twitter for an alternative place and was recommended to get a custom frame made. One of the locations recommended was near Avenues where I was, so I headed there straight away to see how much it would cost and how long it would take to get one made.
There were around three frame shops next to each other but I ended up choosing one which had a picture framer working. The other places looked like they just took size orders and sent them somewhere else to be made.
The reason I didn't head to a picture framer first is that I thought it would be a complicated and expensive thing but surprisingly the process was fairly simple and affordable. I showed the picture framer the artwork, he measured it and then asked me to choose a frame which I did. He then quoted me a reasonable KD10 and told me to pick up the frame the next day.
The next day I went back, gave him the artwork and he mounted it in the frame. A very easy and simple process. The picture framer I went to was an old Lebanese or Syrian guy who according to him has been making frames for over 40 years. I've heard of other picture framers located next to Coops but this is the one I ended up going to and the one I'd go back to.
If you're interested in getting a picture frame the shop is called "The Kuwait Center for the Installation of Glass and Frames" and the guy's number is 99810731 (Abu Hassan). Also here is the location on [Google Maps]
Update: He just moved to a new location around the corner from his previous place so I updated the Google Maps location in the post above to point to the new location. Below is a photo of the shop from outside (no sign up as of now).