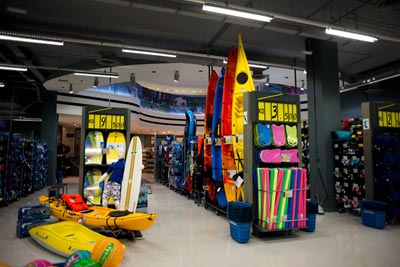 I passed by Marina Mall tonight since I had read they were opening tonight. But when I got there I noticed the shutters were still down but the lights were on inside and I spotted some employees. So I made a few phone calls and managed to get a tour around the store and take some pictures.
First off, the place is HUGE. I was expecting it to be big but not this big. It's like a giant supermarket filled with sporting goods. The store is located in Marina Mall where Virgin and a bunch of other smaller shops used to be right across from Cinnabon and The Athletes Foot.
Decathlon is a French brand and most of their stores have 18 different sections but the one in Kuwait will be missing two, climbing and hunting. The other 16 sections in the store are the following (taken from their website):
– Camping
– Running
– Cycling
– Fitness, Dance, Martial Arts
– Swimming
– Surf Sports
– Boating
– Diving
– Teamsports
– Racket Sports
– Horse Riding
– Walking
– Golf
– Roller, Skate, Scooter
– Fishing
– Target Sports
I really loved the place and can't wait to go back once they open which will hopefully be tomorrow night (Tuesday). They were supposed to open up tonight but due to a technically difficulty they're now aiming to open by noon tomorrow. If anyone is looking for a watch with a heart rate monitor I spotted an affordable one there for KD12.5.