Posted by Mark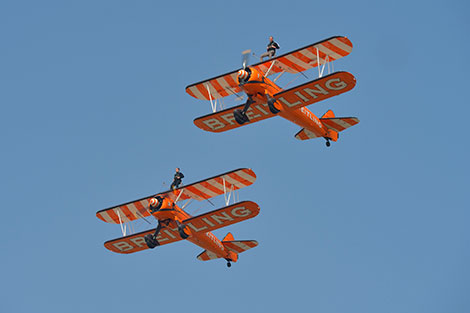 This past Saturday, the Breitling Wingwalkers performed a show at Marina Crescent which everyone on the ground got to enjoy. A day earlier though on Friday, the Breitling Wingwalkers invited 6 people to experience wing walking and I was lucky enough to be one of them.
I headed to Sheikh Saad Terminal early Friday morning where the Breitling Wingwalkers were waiting for us. Me and another person were part of the first team that would fly out that day and I was extremely excited. It was a warm morning but we were told to bring a light sweater or jacket since it would be cold up in the air and we were also told not have anything on us, no phones, no wallets not even a watch. After getting a short briefing we headed towards the runway where the two beautiful biplanes were waiting for us.
A wing walker nicknamed 'Bird' was my guide that morning. First thing she had to do was show me how to get on top of the plane which wasn't as difficult as I was expecting it to be. Once we were on top I had to put goggles on and then get strapped into a standing seat before she proceeded to give a set of instructions like if I wanted the pilot to land what hand signals I needed to give or in case of emergency how to unfasten the strap quickly.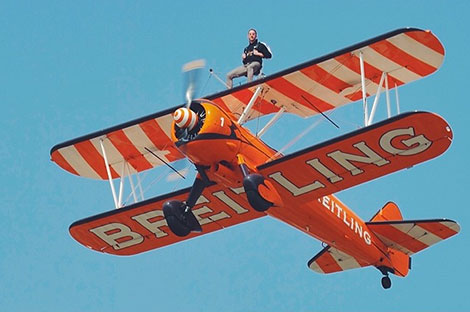 After waiting on the tarmac around 10 minutes we got the go ahead from the Kuwait Airport control tower to take off and we proceeded to the runway. Being strapped on top of a plane while going down an airport runway is an experience by itself. You really don't realize how long and wide the runway is when you're cooped up inside a plane, but when you're sitting on top of one it's just mind boggling. It's why all car shows take the fast cars to airport runways for straight line speed test, it's kinda like an infinitely straight 12 lane highway and it's all yours.
The two planes stopped for a bit on the runway before hitting full throttle and and taking off a few seconds right after. First thing I noticed was the amount of wind that started hitting me, it was insane, my cheeks were flapping and if I opened my mouth a bit it would just fill up with air instantly. There was so much wind resistance I have no idea how the girls perform all the stunts on top of the plane. They make it look really easy that's for sure.
We spent around 10 to 15 minutes circling the airport and the airports vicinity while the two biplanes flew in tandem. I kinda wished I had my phone with me so I could instagram live from the sky like when I went paragliding in Lebanon and powered paragliding here in Kuwait but with the amount of wind hitting me the phone would most likely have flown out of my hand. I didn't find the experience scary at all and actually wished they had performed some loops with us even though they had told us they wouldn't.
It all felt very casual as I was experiencing it and it only hit me yesterday when they sent me the photo of me on top of the plane in the sky taken by their photographer did I realize wow, I was on top of a motherfucking plane! Definitely a once in a lifetime experience and I'm so glad and appreciative that I got to experience this.