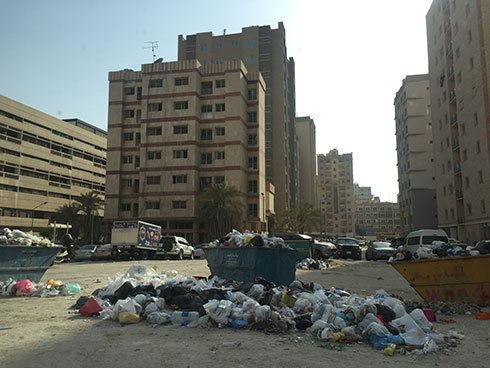 There is currently a major garbage crisis in Lebanon and it made me think about the one I have in my backyard here in Kuwait. I've got this landfill behind my building which has been a garbage dump for years. I've posted about it a bunch of times (check this for example from 2010) and the issue hasn't gotten sorted yet. I mean it gets sorted when I post about it, but then a week later it goes back to garbage overflowing everywhere. I took the picture above at 4PM, that's just the garbage accumulated since morning, imagine how much garbage there will be by the end of the night!
So what do I need to do to get this shit solved? Do I have to post a picture on the blog everyday of the garbage dump and hope that the international embarrassment it will bring to Kuwait will get someone to act on it? Should I set up a live video stream of the dump and have it displayed in my blogs sidebar? Seriously I'm open to suggestions (don't tell me to move or GTFO). Thankfully there is the Deera app but it gets annoying having to report this issue every single day.
The bigger issue is this has become the norm in Kuwait. It's normal to see garbage on the floor everywhere or dumpsters overflowing. I miss the old anti littering campaigns from the 80s. They should bring those back.