Last year when I was in Dubai having lunch I started chatting with the waiter and it turned out he had just moved to Dubai from Kuwait. He was in Kuwait getting training for just a short period of time before being sent to their Dubai branch. I asked him what he thought about Kuwait in the time he had spent here and he replied saying he was surprised at how dirty it was. Usually the most common response is that Kuwait is too hot or the fact they hated it because there was no social life or alcohol but that was the first time someone had told me they thought Kuwait was dirty. That comment stuck with me ever since because it made me realize, I've kinda gotten immune to the garbage like I've gotten immune to the heat or the fact that there is sand everywhere.
The photos in this post are my latest submission to the Deera App. All this garbage is located in a sand lot behind my apartment building, the same sand lot which at one point someone had dug a large pit to dump all the garbage in.
The way I see it there are a few things that need to be done to solve the garbage issue:
1) Clean up the garbage. Not sure how much money is allocated to cleaning up the garbage but either they should allocate more money or work more efficiently. In this one sand lot behind my place a quick solution for now would be to add more bins. When people dug a pit in the lot to throw garbage it was because the 7 bins weren't enough. Instead of adding more bins to solve the issue they removed two leaving just 5 so obviously the garbage is going be overflowing. But its also not just about the garbage bins, there is litter all over the floor all around Salmiya and that never gets cleaned up.
2) Educate people. A nationwide anti-littering campaign would be a good start. I can't even remember the last time there was an anti-littering campaign in Kuwait, maybe back in the 80s.
3) Fine people for littering. This is far fetched of course because I've seen cops let people run red lights and not chase them so I doubt they're going to fine people for littering.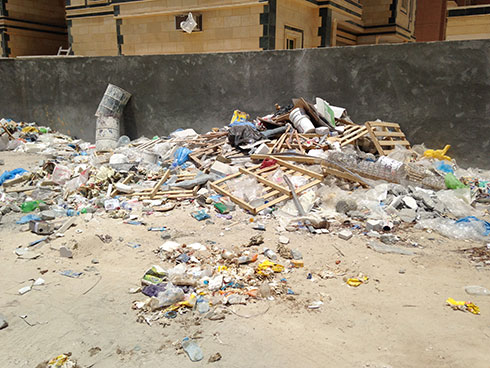 4) Finally put me in charge of Salmiya because whoever is in charge now obviously doesn't give a shit about the area.
Update: Just a quick note, it took two trucks but thanks to the Deera App the garbage was all cleaned and the building that had caused most of the waste in the first photo was also fined.