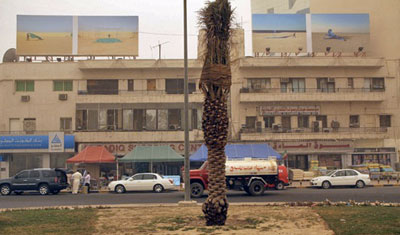 I was just checking the blog ArtKuwait when I found out that there was an article on Art in Kuwait yesterday in The Economist. Turns out there is an artist who currently has his work exhibited on four billboards in Hawalli (who would have thought) and they're going to be up there until the end of the month (check pic above). Here are some excerpts from the article:
ABOVE a busy roundabout in Hawalli, a suburb of Kuwait, loom four giant but subtle photographs about Arab identity and placelessness by Tarek Al-Ghoussein. A Palestinian photographer originally from Kuwait, Mr Al-Ghoussein has exhibited widely, but this is the first time his work has been seen in the country of his birth. Kuwaitis and Palestinians have a chequered past. Decades of relative harmony between the two peoples were soured when Yasser Arafat, as head of the Palestine Liberation Organisation, applauded Saddam Hussein's invasion of Kuwait in 1990. Since then, the Palestinian population in Kuwait has dwindled from nearly half a million to around 40,000.

…

Mr Al-Ghoussein's billboards will be on view in Kuwait until the end of April. They are the second instalment in a series of four art projects by Palestinians that includes Khalil Rabah, Jack Persekian and Tarek Atoui. Instigated and underwritten by Rana Sadik, a collector and philanthropist of Palestinian descent, the series is arranged to coincide with the 50th anniversary of Kuwait's independence and the 20th anniversary of its liberation from Iraq.

"The billboards are a way to remind people on both sides of the positive historical relationship between Palestinians and Kuwaitis," said Abdulaziz Al-Mulla, a board member of the Kuwait Graduates Society, an organisation of some 5,000 members. Interestingly, the artist's father was Ambassador to America in the 1960s and instrumental in getting Kuwait into the United Nations. So it is apposite that Mr Al-Ghoussein's photographs have been given such a cordial diplomatic role.
You can read the full article on The Economist [Here]
via ArtKuwait