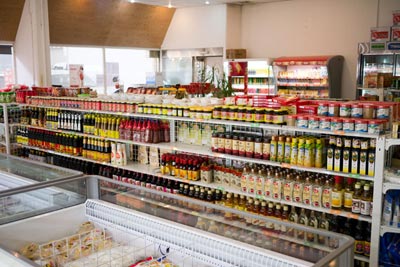 I have no idea how to begin this post honestly. In fact, in the back of my mind right now I'm going "don't post about this place" over and over because I loved it so much and I don't want to share it with anyone. But it's because I loved it so much I really HAVE to post about it. Singarea is a small Korean Supermarket with a small cozy restaurant on the upper floor. It's located in one of those plazas (plaza is actually too nice a word here) in dajeej surrounded by stores that sell cheap furniture and lights. By the looks of the place outside I was expecting it to be pretty dodgy on the inside but wow was I wrong.
When I first walked into the supermarket I was surprised at how clean and organized it was. Majority of their products are imported so there were many interesting things I hadn't seen before. After I was done taking pictures and wandering around the aisles aimlessly I decided to go upstairs and check out the restaurant.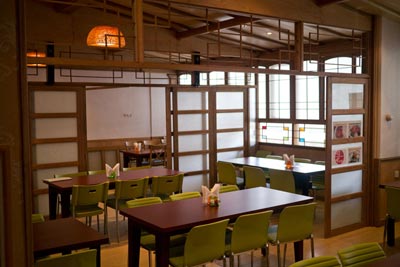 The plan was to snap a few shots, check out their menu and leave but once I saw how the restaurant looked like there was no way I could leave without having lunch. It just felt like I was no longer in Kuwait. The wooden roof, the dark tables combined with the green chairs and the decorative partitions all combined gave the interior a very calm cozy and foreign feeling. I decided to sit in a corner where I knew I'd have a good view of the interior and enough light to take my food shots. There was only one other table occupied by three asian business men so it was peacefully quiet. The waitress was extremely helpful and friendly. She gave me the menu and asked me if it was my first time there which I replied to yes. She started to help me out with the menu explaining how they had Chinese, Japanese and Korean cuisine. My eyes quickly started checking out the things I knew like sweet and sour chicken but I resisted going with what I was comfortable with and instead asked the waitress to help me choose my dishes. Since I was in a Korean restaurant I wanted to try Korean dishes and asked her to recommend me some options. In the end I decided to go with the following (descriptions taken from the menu):
Starter
Deuk Bokki: Stewed rice cake with spicy Gochujang. Especially youngster's favorite.
KD2.000
Main Course
Beef Bulgogi: Most favored Korean barbecue. Savory and succulent.
KD3.500
Dessert
Frappe: Fruits, sweet red bean paste and one of three flavors, strawberry, chocolate, blueberry syrup over shaved ice.
KD1.000
Drink
Red Vinegar Drink: Naturally brewed red vinegar from red Ginseng, pomegranate, Ume helps changing body into alkaline.
KD0.750
I forgot to mention that as soon as I sat down I was served corn tea (Oksusu cha) at room temperature. Never had that before and didn't know you could make tea from corn. It tasted better than regular tea at room temperature.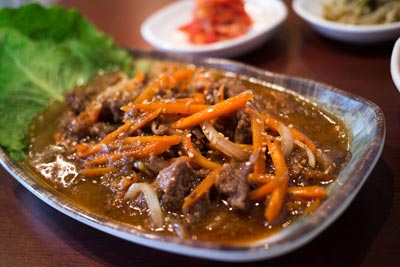 My starter arrived a short while later and using my chopsticks I started to eat. The rice cakes were a bit spicy but full of flavor. I didn't like the dish that much but I did appreciate all the flavors in it. I wasn't sure what to expect with Korean food, I figured their flavors would be a bit safe like Thai food but it turned out to be more exciting like Chinese food which actually makes sense since they're neighboring countries.The red vinegar drink was very refreshing and although I was expecting it to taste like vinegar it didn't. It tasted more like a cocktail you'd have pool side and is a great summer drink. Because the rice cakes were spicy sipping the red vinegar helped cool things down. My second dish the Beef Bulgogi was ridiculously good and I mean I wiped the plate clean kinda good. It was sweet and the beef was very tender and oh I'm so going back just to have this dish again. Finally the desert arrived and although I'm not a fan of most fruits especially blueberry, I still wanted to try the dish just because I wanted to experience a Korean dessert. I expectedly didn't like it but that was no surprise.
They have a huge menu and although I'm really tempted to order the Beef Bulgogi again on my next visit I'm going to try and not do that and instead try something else new. I generally eat the same thing all the time so it was very exciting to experience some new flavors. I really loved the place, the food, the ambiance, the service the whole experience was like nothing else in Kuwait. I can't believe this place has been open for over 2 years and I just decided to pass by now.
Finding Singarea is a bit difficult but I've highlighted it on this [Map] If you can get to Sears then it's easy. If Sears is on your left side, drive straight until you have the option to go straight or turn right and get onto the 6th Ring Road. From that point drive straight around 30 meters and you'll find the plaza on the left. Singarea is inside that plaza. I recommend you park the car outside and walk in since during the daytime it's incredible chaotic inside there. It's a great place I highly recommend it.
Update: The supermarket has changed location. Check this post for details [Link]