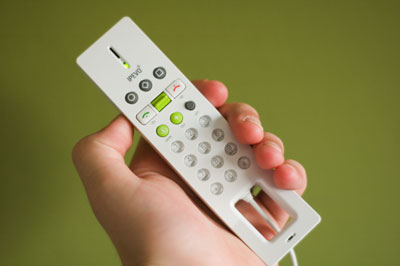 Late last month I placed an order for the IPEVO free.1 Skpe Phone and I just received it yesterday. I have to say its just the coolest accessory for my Mac, even cooler then my CueCat!
I ordered the white version while my sister ordered the black one and they are honestly both great looking. I prefer the white since all my furniture in my computer room is white plus white is more Apple like. The phone works really great with the Mac, all you need to do is install this application which runs in the background and whenever you want to use Skype you just pick up the phone and click on the Skype button which will then launch the Skype application. You can then use the up and down controller on the phone to move up and down in your Skypes contact list, once you highlight a contact you just click the call button and you are suddenly calling your contact all without even touching your computer. Say you want to dial a number that isn't on the contact list then you just input the numbers on the phone and press the call button. Very very easy to use just like a regular phone. The build quality of the phone is just superb and combined with its looks its hard to believe it costs only $30.
I couldn't wait to try the phone so I quickly called my brother up in Lebanon and spoke to him a bit, even when we ran out of things to talk about I tried to stay on the phone as long as I could since it felt great using it. After I was done with my brother I tried to find someone else to call just so I could use the phone again. I really love it.
In conclusion, I would definitely recommend this phone. It looks great, the sound quality is great and the phone feels much more expensive then it actually costs. Its integration with the Mac and PC makes it really easy to work and use which makes it very user friendly. The only downside I could think of is that the USB cable is too long, 2.5 meters to be exact which I guess could be a good thing for some people but not if you are planning on using it with your laptop. Another downside is expect your Skype bill to go up because you really just want to call more because of it. I hated the headphone+mic combination, it just didn't feel natural but since this looks like and feels like a phone I am more comfortable using it. The final score is a 4.5 out of 5.






Buy the white IPEVO phone from Amazon
Buy the black IPEVO phone from Amazon
Visit the IPEVO website