Posted by Mark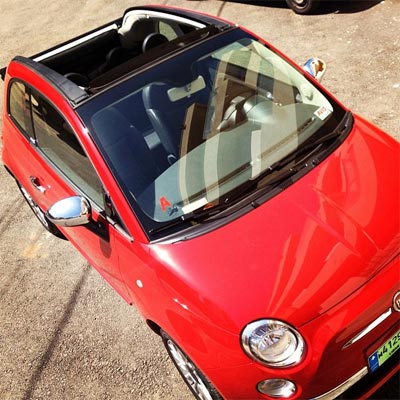 I've previously test driven the Fiat 500 and loved it which is why I decided to rent the convertible version this weekend while I'm here in Lebanon. But, while the Fiat 500 was a lot of fun to drive on flat roads, it's horrible to drive up a mountain.
I don't think it's the lack of power but more the crappy automatic gearbox. The car will just not shift down into the right gear when you really need it. It actually stalled with me TWICE on a tight steep corner which is why I'm now driving the car in manual mode not auto so I could choose the gears I want when I want them.
The version of the car I'm driving is the 500c where "c" stands for cabriolet. Since the weather is fantastic right now in Lebanon driving around in a convertible is the way to go about it. The car I'm in also has a black leather interior which looks a lot nicer than the beige interior of the car I test drove in Kuwait. But, I don't think I could recommend anyone to get a Fiat 500 if they live in a mountainous country unless they get the manual version (or drive the auto gearbox in manual mode).