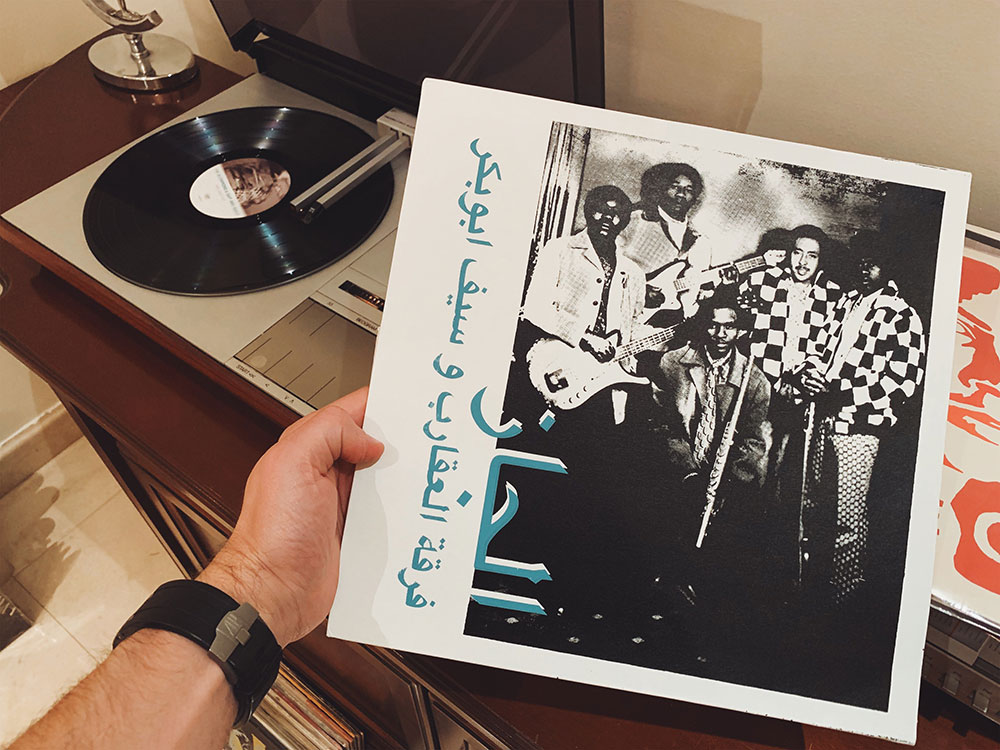 This is going to be a fairly long post but trust me, if you love nostalgic Kuwait related posts you're going to want to read this because it's just so random and really interesting.
A couple of weeks ago I was over at the Australian ambassador's house (Jonathan) who is a music buff and while there he showed me a record which he knew I'd be interested in. The album was called "Jazz, Jazz, Jazz" by a Sudanese band called The Scorpions & Saif Abu Bakr and inside there was an interview with the band members. Turns out the band used to perform in Kuwait back in the 70s at different venues including the Hilton Hotel, the Sheraton Hotel, and the Marriott Hotel. Check out the clipping below: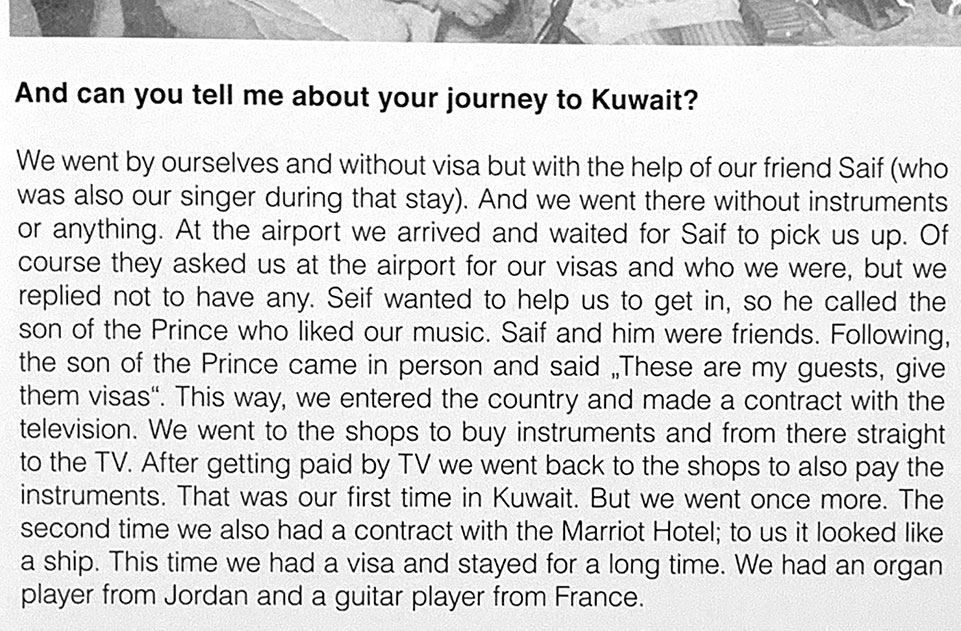 And can you tell me about your journey to Kuwait?

We went by ourselves and without visa but with the help of our friend Saif (who was also our singer during that stay). And we went there without instruments or anything. At the airport we arrived and waited for Saif to pick us up. Of course, they asked us at the airport for our visas and who we were, but we replied not to have any. Saif wanted to help us to get in, so he called the son of the Prince who liked our music. Saif and him were friends. Following, the son of the Prince came in person and said "These are my guests, give them visas". This way, we entered the country and made a contract with the television. We went to the shops to buy instruments and from there straight to the TV. After getting paid by TV we went back to the shops to also pay the instruments. That was our first time in Kuwait. But we went once more. The second time we also had a contract with the Marriot Hotel; to us it looked like a ship. This time we had a visa and stayed for a long time. We had an organ player from Jordan and a guitar player from France.
That KTV performance is actually online and you can check it out below:
So this is where things get even cooler. I get all excited about this and start taking photos of the record album and posting them on my Instagram account. A couple of hours later I get a message from a follower saying:
This is so weird. Saif is a colleague of mine and seeing this and reading it, it just seems like it's another dimension. We knew that he was a part of some band, we just didn't know to what extent. Where can I get this record/Cd?
Saif was still in Kuwait?? I quickly shared the message with Jonathan who suggested we invite him to dinner. So I had Saif's colleague talk to Saif and see if he would be interested to meet. I ended up getting his contact information and Jonathan set up the dinner for us.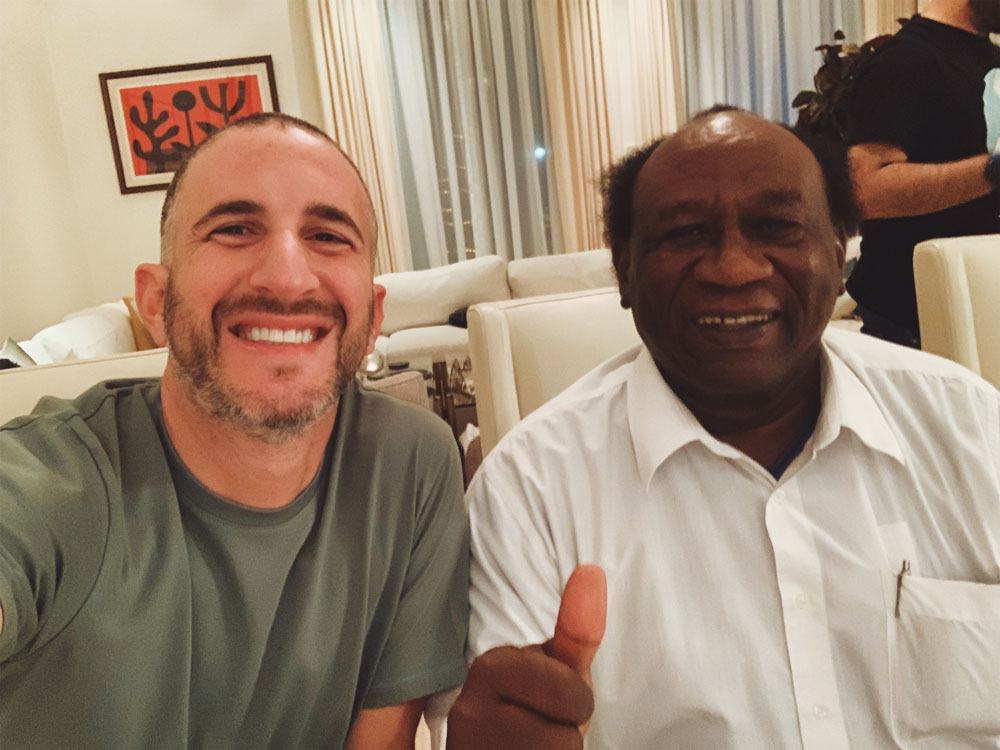 Me with Saif
A few days later we got to meet Saif and he was just full of interesting stories. Saif was never meant to come to Kuwait, when he turned 18 he decided to leave Sudan and head to Germany. So he headed to Lebanon first so that he could take the train to Germany. Once he got to Lebanon he met a girl and so decided to stay there for a month, he needed the money anyway and he figured he could earn money performing music while there. He then left Lebanon and headed to Syria and from there he got convinced to head to Kuwait and try and earn money there.
Once in Kuwait he met up with an old friend of his called Adam who used to play football for Qadsia club. Adam hooked Saif up with a job as an English teacher for air traffic controllers and as a side gig, he would perform music on Kuwait TV talk show. One day one of the guys at KTV comes up to him and asks him if he could put a band together because he wanted to record a performance for the station. Saif tells him he could and called up his friends in Sudan whom he used to perform with called The Scorpions. That's basically how the whole story with that KTV broadcast came to be.

The Scorpions & Saif Abu Bakr Performing at KTV
But that's not the end of it. Saif used to perform for a Kuwaiti event organizer back then called Hussein Abul. Hussein was the guy who brought the likes of Boney M, Demis Roussos, James Brown and Santa Esmeralda to perform in Kuwait. When James Brown came to Kuwait, Hussein gave Saif the job of driving James Brown around since Saif spoke both English and Arabic. Since Saif spent a lot of time with James Brown, a friend of his told him to ask James Brown if he could perform the track Super Bad at his events. The first two nights James Brown performed he didn't play Super Bad but it was a really popular song with the locals and so a lot of people were requesting it. So Saif explained that to James Brown who said he didn't mind. During rehearsal that day, James Brown tells his band that he wanted to play Super Bad but, one of the two bassists in the band didn't know how to play it. James Brown tried to help him out by humming the rhythm he wanted but the bassist couldn't get it right. Out of frustration James Brown asked his band if anyone else knew how to play the bass on Super Bad, and Saif who was sitting there watching the whole thing said he knew how to play it. James Brown was like are you sure you know how to play it? Saif and his band used to perform covers all the time and he used to practically play Super Bad every night at hotels. So even though he was under pressure now to perform in front of James Brown, he knew the song inside out. He ended up playing for James Brown who was so impressed that he asked Saif to perform the song with the band over the remaining events in Kuwait.
One interesting fact I found out, Hussein had also supposedly signed a contract with Michael Jackson to come to Kuwait. But before Michael Jackson's event, he had scheduled the popular band Osibisa to come to Kuwait as well. But Islamists caused an uproar over one of Osibisa's tracks because it contained an Islamic verse or something like that, and Hussein was banned from organizing events ever again. Hussein supposedly ended up leaving to Brazil where he now lives permanently.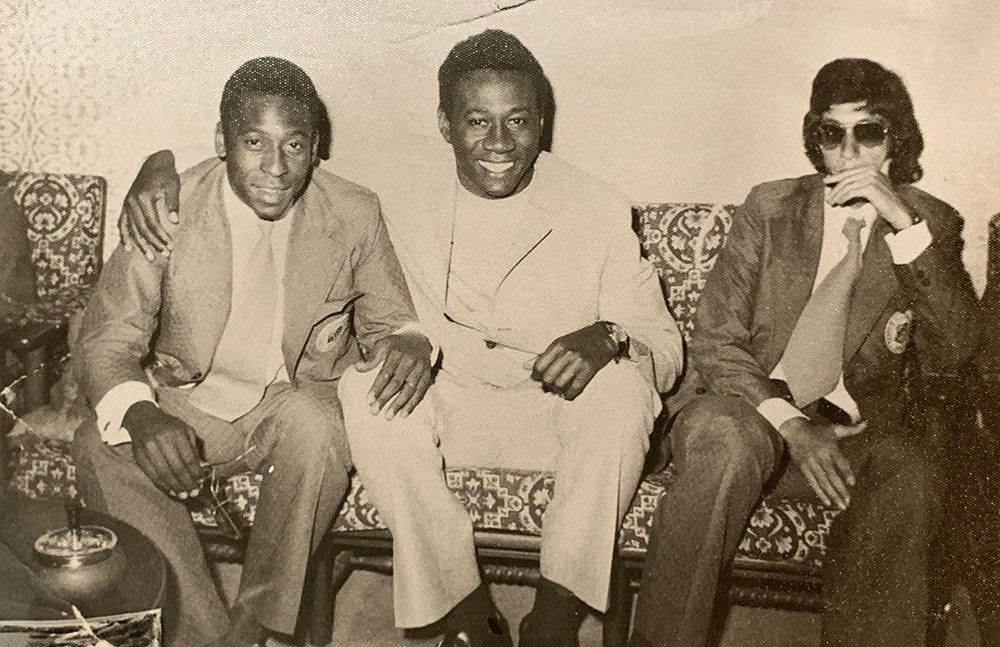 Saif with Pele in Kuwait
Anyway, Saif eventually ended up leaving Kuwait to study but then came back once he was done. He's been in Kuwait ever since and currently still teaches English at a local aviation school but still performs in Sudan every now and then with his old band. He lost most of his old photos during the 1990 Iraq invasion but I shared two remaining ones in this post, the Pele photo above and the band performing at KTV above that. Jonathan the Australian Ambassador is also gonna try and bring the band together again to perform in Kuwait and once that happens I'll let you guys know.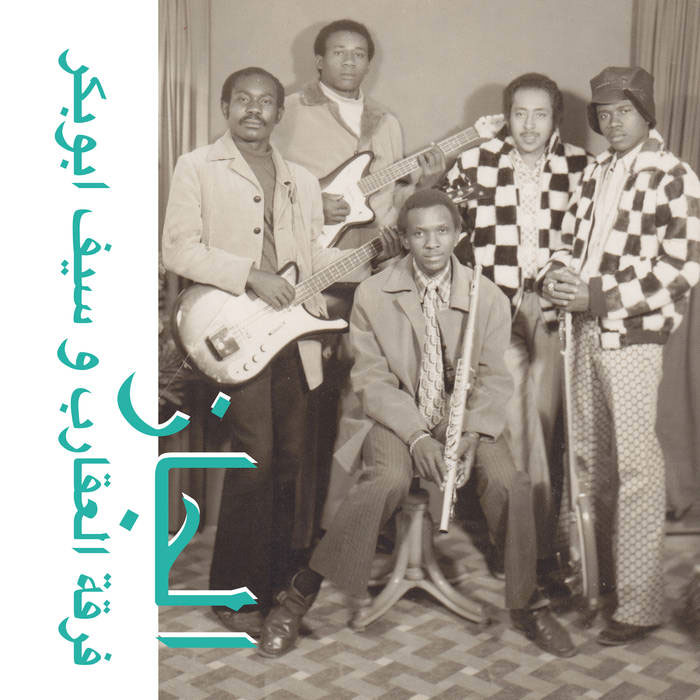 For now if you're interested in buying a copy of the album "Jazz, Jazz, Jazz" it's available for purchase in different formats on bandcamp.
Update: Jazz, Jazz, Jazz is also available on Spotify. Farrah Galbi Aljadeed is my favorite track followed closely by Forssa Saeeda.