Post by Mark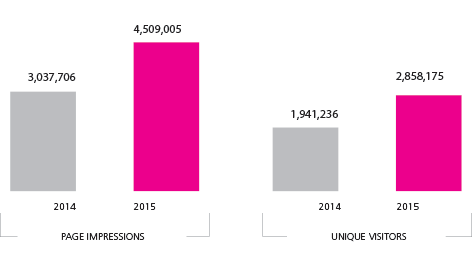 I was just adding last years stats to my blogs media kit when I realized traffic on the blog this past year had increased tremendously over the previous year. I obviously knew traffic had increased since I monitor the stats on a daily basis but I hadn't expected this much growth. I had roughly guessed traffic had increased by around 30% but after collecting all the data, it turns out traffic had increased by 56% over the previous year.
Page Views
2012: 3,525,263
2013: 3,089,212
2014: 3,037,706
2015: 4,509,005
Unique Visitors
2012: 2,615,214
2013: 2,289,155
2014: 1,941,236
2015: 2,858,175
What caused the traffic increase?
One theory I have is my content had improved which in return caused more interest. Another theory is that people were coming back to the blog because they were getting bored of instagram or maybe they realized the kind of content I was providing wasn't available on instagram. Another reason I think is that people today are overwhelmed with content but with my blog I try to limit it to just three posts a day. That makes it easy to follow since I provide curated content instead of quantity. But, whatever the reason may be, the influx of traffic kept this blog alive.
The result?
Only my close friends know this but I was actually considering closing down the blog last February on the blogs 10 year anniversary. Traffic had dropped in 2014 and so I started losing interest in the blog. I tend not to spend a lot of time on projects, I like doing and try a lot of things and I jump from one project to another fairly quickly. Working 10 years on a single project was just incredibly long and if my blog had hit its peak then maybe it was about time I moved and obsessed over something else.
But last January I noticed traffic had started increasing and then when my blogs 10 year anniversary came about, traffic had increased even more. I thought that was an interesting turnaround and so I decided to hold off on closing down the blog just to see where all this was going. Every single month last year ended up performing better than the year before. The resurgence in traffic got me excited again about blogging and I started enjoying it like I did in the old days.
What now?
As long as traffic keeps increasing and as long as I continue to generate income from this blog I'm going to continue blogging.
A lot of people don't understand the importance of my advertisers. If it wasn't for my advertisers I would have shut down the blog a long time ago. My advertisers play a big role in keeping this blog alive and so do my readers. If it wasn't for my readers coming back every day to read what I had to say I would have also shut down the blog a long time ago. I wouldn't want to write if nobody was reading.
So as long as all the stars continue to align, then this blog will continue to stay up.