Posted by John Peaveler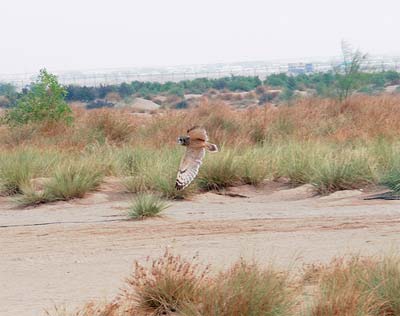 This story begins with an honest truth: A summer survey of Kuwait's public access desert would reveal a landscape comprised primarily of farm animals, garbage, and earth (sand, dirt, and dust). A careful eye would notice some plants, but very few, very small, and nearly dead. I'm talking about those areas outside of the city, where urban civilization ends and nature begins. The obvious reason for the lack of plant life is that we live in a desert. We get very little precipitation. Plants need water. Sand is the natural substrate of the desert. These factors combined equal a quasi-moonscape, right? If you've made these conclusions, you are, I'm happy to say, mistaken, and it is my goal in writing this to amaze you with the beauty of Kuwait and encourage everyone to do better for the sake of our natural heritage.
The images of giant drifting sand dunes and storms that swallow up entire houses that so many of us associate with the word desert simply do not represent Kuwait. Our ecosystem is harsh: it's hot, it's dry, it's wind-swept, it's dusty, but most importantly, it is positively teeming with life. Actually, it SHOULD be positively teeming with life, but for the most part, it isn't. It would be teeming with life if nature were allowed to take its course. Instead, we see the results of decades of under regulated grazing, off-road driving, and winter camping. It seems grim, I know. I'm here to tell you there is hope. More than that: there is life out there, just waiting for a safe place to live.
Enter the Abdaliya Nature Project.
The Abdaliya Nature Project was conceived in late 2010 by Kuwait Oil Company employees with a particular interest in seeing the restoration of Kuwait's desert. These employees, acknowledging their role to utilize petroleum resources while protecting Kuwait's natural environment, took the initiative to preserve an area of desert approximately 1.5 million square meters in size. Prior to reutilization as a nature project, this area was in the public domain and was being used for winter camping. Winter camping in Kuwait, while originally nothing more than a traditional way to enjoy the cool winter months has become so invasive and destructive that the desert ecosystem cannot compete with the concrete, garbage, tires, and other pollution dumped annually upon the spring abandonment of the campsites.
The project began with months of clearing garbage and debris left behind by more than a decade of camping. The most common forms of waste removed included water tanks, concrete blocks, concrete septic tanks, car tires, food and beverage containers, and materials used for shade. With a clean slate to work with, the next steps included constructing access roads and water pipelines followed by the planting of nearly 40,000 seedlings and saplings. Why not simply let the plants return on their own? The answer is diversity. While the "if you build it they will come" model is less costly and much more simple, the result is an imbalance of species. Much like a farmer's field left empty and consumed by weeds, bare desert in Kuwait will result in a few species taking over the entire ecosystem, thus absorbing nutrients and precipitation and excluding other plants. From the very beginning Abdaliya was planted with a diverse group of native species.
Replanting commenced in early 2011. In less than a year, the Abdaliya Nature Project transformed a barren and utterly destroyed wasteland patch of desert into a unique and incredibly beneficial oasis of flora and fauna. During this period, K'S PATH has proudly been working with KOC on this project doing clean up, wildlife monitoring, anti-poaching, feral dog management, and more. Even in this relatively short period, we have seen a dramatic increase in the number of birds, lizards, snakes, rodents, and insects in the project, none of whom were introduced. Our goal for the next two years is to introduce fox and hedgehogs to the area as we continue to strive toward a natural, balanced, and well-managed ecosystem. KOC is also planning to build an education center at the site so that we can begin to spread this message of diversity and protection for Kuwait's future. The fact is that it will take all of us working together to protect Kuwait's natural heritage for future generations.
If you participate in winter camping or drive off-road, please consider the implication of your actions. Properly dispose of your waste, remove everything you bring into the desert, and stick to established driving tracks.
For more pictures click [Here]
Post by John Peaveler
Managing Director
Kuwait Society for the Protection of Animals and Their Habitat (K'S PATH)