Posted by Mark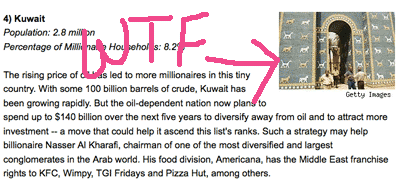 Guess who made this list and coming in at #4?
4) Kuwait
Population: 2.8 million
Percentage of Millionaire Households: 8.2%

The rising price of oil has led to more millionaires in this tiny country. With some 100 billion barrels of crude, Kuwait has been growing rapidly. But the oil-dependent nation now plans to spend up to $140 billion over the next five years to diversify away from oil and to attract more investment — a move that could help it ascend this list's ranks. Such a strategy may help billionaire Nasser Al Kharafi, chairman of one of the most diversified and largest conglomerates in the Arab world. His food division, Americana, has the Middle East franchise rights to KFC, Wimpy, TGI Fridays and Pizza Hut, among others.
They've messed up big time though by having a picture of the Babylon Gates from Iraq as a visual representing Kuwait. I guess the Kuwait Towers was just too cliche? Here is the link to the full [Article]
Thanks Zaid