Posted by Mark
My favorite person to go out eating with is Choowy Goowy guy since we both have similar tastes in food and all his recommendations usually leave me with a happy stomach. Yesterday we decided to pass by and have lunch at Burger Boutique, I hadn't been there since Slider Station opened and since I am finishing up the Burger Challenge it was on my to do list.
It wasn't easy trying to choose a burger to have. I've had nearly all their burgers before and they were all great but for the burger challenge I need to choose just one. I decided to go with one of their new burgers which came highly recommended, the Madison. I've had it before as a slider at Slider Station and loved it so I couldn't wait to try the burger version.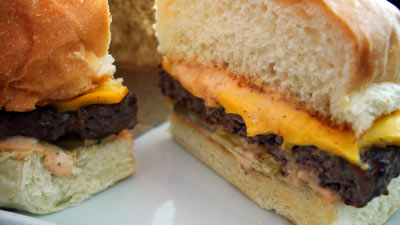 The Madison's ingredients are a chargrilled rib eye infused beef patty, processed American cheddar, pickles and west coast sauce. I ordered mine without pickles and fries as my side dish.
I love how Burger Boutiques burgers look like and the Madison is no exception. Although a simple burger the presentation was very appetizing with a great looking bun and nicely melted cheese on what looked like a perfectly sized patty. But not all was perfect. Although I loved the Madison slider I don't think it works well as a full sized burger. I had the same issue with their Midnight slider, it was one of my favorite sliders but when I had it as a full fledged burger it didn't come out as good. I think the sauce is great in small quantities but once you have a lot of it then it becomes a bit too heavy. The bun was excellent though and their beef patty is seriously one of the best.
I think Slider Station which also belongs to the same owners raised the bar on burgers in Kuwait and now a good burger just doesn't cut it anymore. I am giving the Madison a 3.5 out of 5 which is still a really good score but just not as high as I was expecting it to get. I think the Madison is one of the best looking burgers so far in this challenge, I will definitely be having it again… but as a slider.

Burger Boutique is located in Alraya Mall
The cost of the Madison Burger is KD2.950