Posted by Mark
When I was walking back home from work the other day I spotted this shawerma place called Dandosh. What grabbed my attention was a red skewer of chicken which according to a friend of mine I met there was their "mexican mix". So since I was taking a day off from my diet I decided to pass by tonight and try out their shawermas.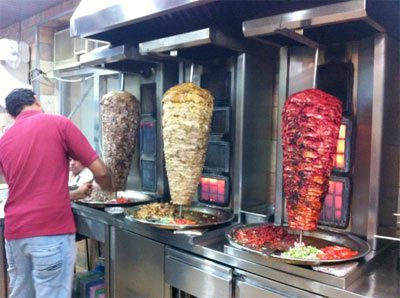 I didn't try their meat but I ended up having three different combinations of chicken shawerma which are:
- Mexican chicken shawerma with regular garlic and fries
- Regular chicken shawerma with red spicy garlic and fries
- Regular chicken shawerma with regular garlic and fries
I had all the above without their onion/greens mix.
The Mexican shawerma was a bit too strange for me. It had a lot of different spices and I tasted a hint of green pepper which I don't like. The regular chicken shawerma with their special red spicy garlic was good although I thought it was a bit too spicy. My favorite shawerma turned out to be the classic, regular chicken with regular garlic. The garlic wasn't too strong and the overall combination I think might be better than Badar Al Badoor although I would need to go back and try it one more time just to be sure. They also have benches outside if you want to sit and eat.
I would definitely recommend the place and if you want to know how to get there here is a link to [Google Maps]. For those of you who know where Badar Al Badoor is then it's very easy to get to Dandosh. Just go straight instead of taking the right turn that takes you towards Badar Al Badoor.