Posted by Mark
Over the weekend I picked up three different speaker docks from the Digits Apple Store to review. Even though all three do the same thing they're not really direct competitors, either because of the price difference or because of their abilities as you'll see in my short reviews below.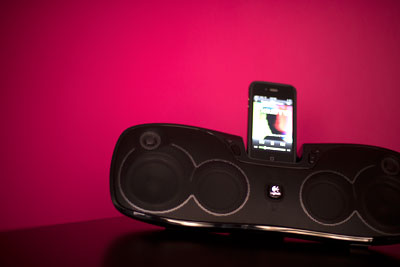 Logitech S715i
The Logitech speaker was the smallest and most portable of the three. It's also the only one that comes with built in rechargeable batteries which makes it really convenient to take to the beach and other places where power outlets aren't available. The speakers are loud although the sound isn't the greatest with pretty weak bass but that's to be expected due to the size. One thing that really bugged me about the speaker dock is that I couldn't connect my iPhone to it unless I removed the iPhone bumper which was annoying. Overall a fairly decent speaker that doesn't win on style or sound but is priced competitively at KD35. Personally I'd check out the Jawbone Jambox first if I was looking for portability but that also costs twice as much.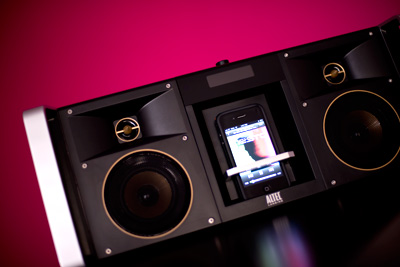 Altec Lansing iMT800 Digital Boombox
When I first pulled out this boombox from the box I was a bit disappointed. I had just finished with the Monster Beatbox and compared to it, the Altec Lancing felt very plasticky, light and flimsy. It also didn't sound as good nor was it as pretty. But it did have some features the Beatbox lacked and one of them is the built-in FM radio tuner. If you're a fan of Linda on the Superstation you're going to really want this. Another feature is the fact that it has three inputs, one iPhone/iPod dock and two auxiliary inputs so you could hook up 3 iPods if you want. Finally and more importantly is that the Altec Lansing can run on 8 large D-cell batteries which actually is a useful feature. Now because of the size of the Altec Lansing I thought it was competing with the Monster Beatbox but turns out they're currently selling this for KD34 which suddenly makes this not so great speaker dock a really great deal. It sounds a lot better than the much smaller Logitech, it also has a small digital screen that shows you details like artist and album name as well as having the ability to run on batteries if needed. I actually emailed Digits back to confirm they hadn't mixed up with the price. Turns out they're having an offer on these and I'm guessing because of the newer iMT810 version.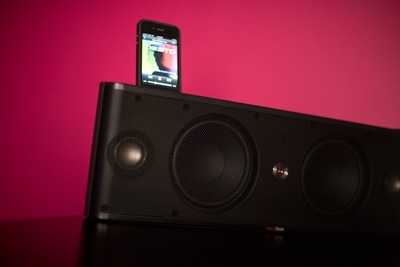 Monster Beatbox by Dr. Dre
This by far was the best sounding speaker of the three. Even compared to my Bang & Olufsen BeoSound 8 the Monster Beatbox sounded really great with a lot more deeper bass. It was also the easiest of the three to operate and it also had the most solid build. The Beatbox is pretty simple with just an iPhone/iPod dock in one corner and a volume knob on the other. To give you an idea of how big a sound the Beatbox has, I live in a two story apartment and while I was sitting upstairs Nat was listening to music downstairs and I couldn't tell if she was listening to music off our home theater or the Beatbox (turned out to be the Beatbox). The amount of bass it gives out for it's size is just ridiculous, it really does shake the house. I did have one big issue with the Beatbox and that is the fact the dock can't hold an iPad. I know you're probably wondering who would want to use an iPad as a music dock anyway and the answer is anybody who's tried the iPad version of Spotify. I use it with my BeoSound 8 and it's unbelievably cool so much so that while I'm home I no longer listen to my MP3's. The iPad Spotify app is fantastic plus I prefer to keep my phone on me and not plugged into a speaker dock. But that's nit picking a bit which is fine since this is a review. Price-wise if you're interested in the Beatbox, Digits are selling it for KD100 to my readers. Just tell them you saw this price on my blog and you'll be able to get it for KD100 which is around KD20 cheaper than Amazon (not including tax and shipping).