Posted by Mark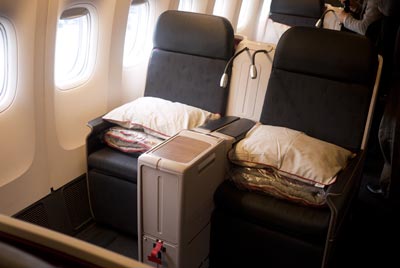 I should be posting about the Turkish airport and the Turkish Airlines Lounge but because I only spent around an hour at the airport I didn't really have too much time to explore it. Since I'll be spending more time at the airport on the return flight, I'll post about the lounge once I get back to Kuwait. So instead, I'm going to post about the flight from Istanbul to New York.
The total travel time from Istanbul to New York is around 10 hours and 50 minutes and we flew in their Boeing 777-300ER V2. The business class setup on this flight was the latest one which is made up of just 4 rows split up as 2-3-2. One of the first people to greet you once you enter the business class is the chef which kinda sets a level of expectation on the kind of food you'll be served during the flight. There's obviously a ton of legroom in business class and it's needed since the chairs turn into 180 degree flat beds. I wasn't sure at first if they would be true 180 degree "flat beds" or instead be "lie flats" which are seats that turn flat but are slightly angled. I've experienced lie flats on two other airlines and they're not as easy to sleep in and I always feel like I'm going to slide off them. Thankfully, the Turkish Airlines seats were proper flat beds which made sleeping really cozy.
Since the flight was long we were served two meals, one around an hour after take off while the other around 2 hours before arrival. The chef handled everything related to the food including handing out the menus which I noticed were customized with our names. It's a little thing but gives the meals a very personal touch. The first meal we started off with were light appetizers which they rolled out on a trolley. You just tell the chef what you want and he'll fill up your dish for you. Once we were done with the appetizers we were served soup which they only had one option called the traditional Turkish wedding soup. I had it and it tasted kinda like the Lebanese dish called "kebbeh bi laban" and that's probably because think they both involve the same elements, beef and some sort of creamy sauce. After that we were presented with three options for main course, Swordfish Brochette, Grilled Beef Tournedos or Artichoke Ravioli. I went with the beef, Nat with the fish. She didn't end up liking her fish much but I loved the beef. Once we were done with lunch they rolled out the dessert trolley which had a lot of different goodies. I was pretty full so I just went with ice cream. For my second meal later on in the flight I had a pasta dish and it was also superb.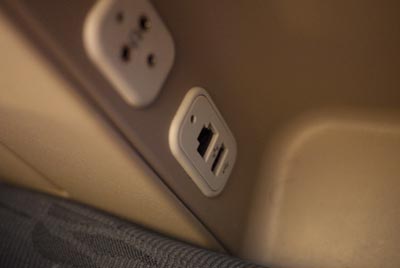 The flight was very comfortable and I didn't have any issues falling asleep on the flat bed. I'm actually not sure how I can fly economy knowing how much more comfortable it is in business. On short flights it's not as important but when you've only slept for 3 hours and you get on board a 10 hour flight, the thought of being able to fall asleep comfortably on a cushy bed is priceless. Actually not priceless, just a lot more expensive than economy. We had large screens in front of us with a ton of movies and tv shows to watch. One disappointing thing was the fact internet access wasn't active yet and was still "coming soon" according to the message I got on the screen when trying to access it. On the other hand they did have live news feeds available. Power sockets and USB sockets were available of course. If you have a USB stick or hard drive loaded up with movies you can watch them on your seats screen via the USB port. Not sure what movie formats their media player handles but I would be safe and not take any 720p or 1080p movies with me.
There's an episode of Seinfeld where Jerry and Elaine's flights get cancelled and they had to rebook on another flight. They end up finding two seats left, one in first class and the another in economy. Jerry explains to Elaine how she should take the economy seat since she's never flown first and really wouldn't miss anything but he on the other hand has and so he could no longer fly economy. Well that's me right now, next time I fly economy I'm going to be thinking about all the cool things I'm missing from business.