Posted by Mark
Since I've started running and biking I was using the Nike+ GPS app on my iPhone to calculate the distance and amount of calories I was burning. But it had limitations and a few bugs so I decided to invest in a watch that would do a better job at it. The first watch I looked at was the Nike+ SportWatch GPS but it wasn't cheap at $200 and it didn't come with a heart rate monitor which was another $70. It also wouldn't work well with biking. After a bit of research I finally ended up getting the Garmin Forerunner 305 for a number of reasons while I will list below.
The Forerunner 305 has a built in GPS, a very large screen and it comes with a heart rate monitor. The amount of information it can collect during a run (or bike ride) is overwhelming. For example, you can find out the distance traveled, your top speed, average speed, max hear rate, average heart rate, amount of calories burned, the elevation, the duration, the length of your rest breaks, what zone your heart rate is in and a few more details all of which you can be uploaded onto the Garmin Connect website and get it displayed as maps, charts and numbers.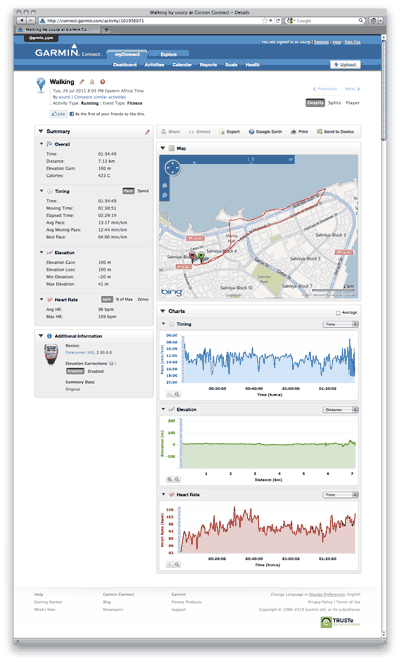 The 305 has a large screen which as a result allows you to display a lot of information on it. The screen can be divided into 4 sections with each displaying information of your choice. For example I have it set up to show me:
– The current duration of my run
– The amount of calories burned
– The distance I've traveled
– The current time
All the above in one screen and if with a press of a button I can flip over to a second screen with 4 more pieces of information. If that's a lot of information you could also divide the screen into 1, 2 or 3 sections. I also got two accessories with the watch, one is a bike adapter so I could mount the watch onto my bike and have the information in front of me. The second accessory I got is a velcro strap since it's thicker then the rubber strap that comes with the watch and personally I think looks much better.
There are two negatives about the watch, nothing major but ones that are worth mentioning. Because of the GPS, the battery on the watch lasts for just 10 hours before needing a recharge. 10 hours is more than enough time since my runs are a lot shorter but I already have too many devices I need to charge and don't really need another one. The second issue is the way it looks. This is not the best looking watch out there. But on the positive side it is very light and I would rather have an ugly watch with a large screen over a good looking one with a smaller one. But still, this watch would probably rank high up in my Top 10 Ugliest watches ever list.
I've saved the best thing till the end which is the price. This watch cost me just $128! It's literally a steal right now since the newer Forerunner 310 came out. This watch originally cost over $400 and at $128 I don't think there is any other watch in the market with similar features at this price point. This is a good deal, just ignore the way it looks. You're not supposed to look good working out anyway, if you do then you're doing it wrong.

Here is the link to the Forerunner 305 [Amazon Link]