Posted by Mark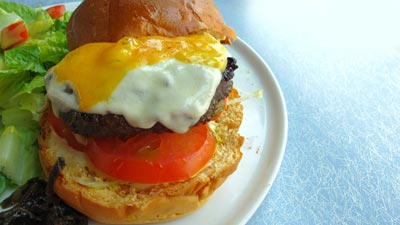 Since I can have burgers as part of my diet, the burger challenge is back on. My diet says no cheese but once a week I will break it and order my burger with cheese since I am already sacrificing. This weekend I was at Slider Station and I didn't have the chocolate pudding. Anyone who has had the chocolate pudding there would know how difficult it is to resist but I did it. That was on Saturday, Friday I passed by Nino. I wasn't planning on trying their burger out but since everything else they had including the grilled stuff had butter in them I decided to go with the burger (salad on the side instead of fries).
I went with the Con Formaggio Burger which is their cheese burger. There is no egg in it even though it looks like it in the picture above, that's just white and yellow cheese. No one asked me how I wanted my burger done.
I got my burger a short while later and noticed 3 slices of tomatoes under the meat patty which I quickly proceeded to remove since tomatoes sog up the bun. That's when I also realized they had chopped cabbage lettuce underneath the tomato mixed with mayonnaise dressing. I quickly proceeded to remove those as well since they shouldn't be in a gourmet burger. I don't mind them in a cheap Lebanese style burger that also contains french fries over the thin frozen patty, but on a burger like this, it just feels out of place.
I put my ketchup and took my first bite. The bun is pretty good, soft and tasty. The patty on the other hand was dry. The burger was slightly messy to eat since even though I removed the tomato and mayo lettuce right away it wasn't fast enough since the bottom bun got soggy. I struggled to come up with a score for it but in the end decided on a 3. I was going to go with a 2.5 but the bun was really good. I guess they're lucky I'm on a low carb diet and crave bread more than burgers right now (I have dreams of the chocolate bread at The Meat Co.). The price of the burger was reasonable costing KD2.950 but even though I don't think I would have it again.


Nino is located on the Gulf Road and Avenues.
The cost of the Con Formaggio Burger was KD2.950
Here are the burger places I've reviewed so far:
Applebee's


Bredz



Burger Boutique


Eighty 6 Bistro


Fauchon



Fuddruckers


Hashi




Gaucho Gril


Gourmet Burger Kitchen




Johnny Rockets



Munch




Napket


Nino



Papa John's Burgers


Prime & Toast



Ruby Tuesday




Slider Station


Sheraton Hotel



Smoke House


The Burger Hub



The Butcher Shop



The Little Oven


The Meat Co.


Wimpy