Posted by Mark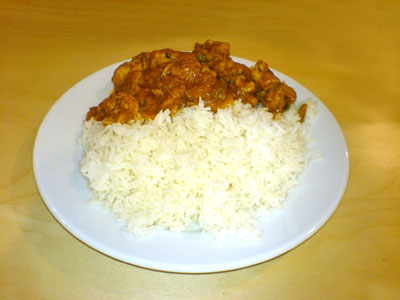 IKEA isn't the first place that comes into mind when you think of Indian food but surprisingly, it should. When IKEA was still based in Shuwaikh their restaurant was tiny and had a limited variety of dishes. Now that they are based in The Avenues and have a lot of space they expanded their restaurant not only in size but also in the variety of dishes that they serve.
One of the dishes they used to serve every now and then as their daily special has now become a permanent dish on their menu, the chicken masala.
As I said earlier when it comes to Indian food IKEA isn't the first thing that comes into mind. Swedish meatballs yes, chicken masala no. Despite how strange the notion of a Swedish furniture chain serving Indian food might sound, they somehow managed to get it right. IKEA serve extremely good chicken masala and they serve it alongside plain white steamed rice. Combined the meal is priced aggressively at only KD1.500! The portion is large and filling and the flavor is pretty darn good. Its currently my favorite dish at their restaurant and a favorite among many. With a cheap price tag, good portion and great flavor there really isn't much to complain about. Final score is a 4.5 out of 5.