Posted by Mark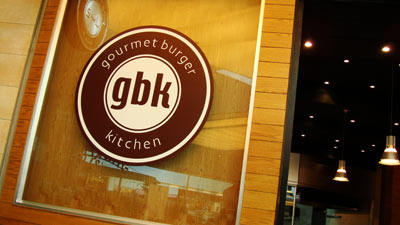 It's been a while since my last burger review and I was hoping to start it off again with a great burger but that didn't happen. I passed by Gourmet Burger Kitchen (GBK) today for lunch, it was my first time and probably my last.
Their burger menu is pretty big with lots of different styles to choose from. I asked the waitress what their most popular burger was and she told me it was the Cajun Burger. She also told me they had a special offer now where they gave away a drink and fries with the burger. I thought that was cool and I went ahead and ordered it.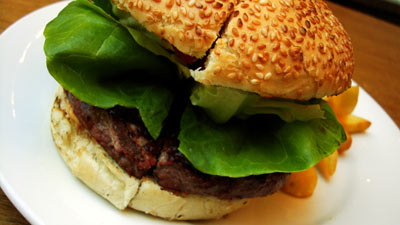 The Cajun Burger is made up of Black-Angus beef, smoked chili mayo, salad, and Cajun relish. It didn't take too long to arrive and at first glance it was disappointing. The burger looked very dry and unappetizing while the bread itself looked very poor and thin. It didn't get any better from there. Once I had my first bite I realized that although looks can be deceiving, it wasn't in this case. The burger didn't taste good, the Cajun relish was slightly sweet and I didn't think it went well with the chili mayo while the bun was the worst part. The upper half of the bun was very thin and was breaking apart while I was having the burger as if it was old. The burger was also pretty messy to eat which didn't make things any better.
For a place like GBK which specializes in burgers its strange that their buns are so bad. Maybe GBK is a popular place in London but with strong local creations like The Burger Hub and Slider Station, GBK doesn't have a chance here. I gave the burger a 1.5 out of 5. The burger patty was good but everything else around it wasn't.



GBK is located in The Avenues and Marina Mall
The cost of the Cajun Burger is KD2.950