Posted by Mark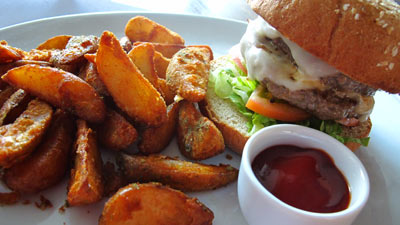 Another Lebanese place I passed by to try their burgers was Casper & Gambini's. I had heard their burgers were good so I decided to try them out. I went to the Avenues branch on Saturday and it was empty except for another couple sitting behind us. The location was small but cozy and tucked away from all the weekend traffic. I found two kinds of burgers on their menu, I decided to order the one with the thick 200grams patty and I asked for it to be done medium.
When the burger arrived I noticed something strange. Instead of one 200gram patty there were two thinner patties stacked on top of one another. I guess they had run out of 200gram patties and decided to replace them with two 100gram patties? I tried to take my first bite and had problems. The burger buns were very dry and with the two patties stacked on top of another the burger was too high for me to bite into. After squeezing the burger hard I managed to take a bite. It was super dry. The burger was cooked well done and the patties tasted like the Khazan frozen ones (no offense to the Khazan burgers). Actually the burger taste reminded me of the burgers I used to order at the beach in Lebanon as a kid. The burgers were usually terrible but because you've been swimming and running around all day, by the time it's lunch anything you eat at the beaches canteen ends up being delicious. Only problem in this case is I'm not 12, and this isn't a beach canteen.
The final score is a 1.5 out of 5 and that's mostly because the taste reminded me of my childhood.



For a list of Casper & Gambini's locations click [Here]
The cost of the Gambini Burger was KD4.350
Here are the burger places I've reviewed so far:
Applebee's


Bredz



Burger Boutique


Eighty 6 Bistro


Fauchon



Fuddruckers


Hashi




Gaucho Gril


Gourmet Burger Kitchen




Johnny Rockets



Let's Burger



Munch




Napket


Nino



Papa John's Burgers


Prime & Toast



Ruby Tuesday




Slider Station


Sheraton Hotel



Smoke House


The Burger Hub



The Butcher Shop



The Little Oven


The Meat Co.


Wimpy