Posted by Mark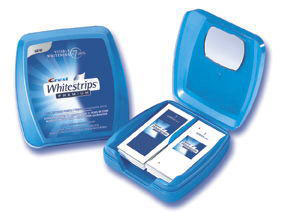 I got the Crest White Strips Premium earlier in the month so I could try them out and post my experience. Thing is I never took a before picture so I could compare the color of my teeth before I used the strips. I should have done it because I really can't see a difference in the color of my teeth although Nat thinks they are whiter now. Maybe they are whiter but not as white as I expected them to be.
Since I don't have a picture of how my teeth was before I really can't make a fair review of the product. But if I was to use my memory I would have to say the Crest White Strips didn't do as much as I expected them to do. Maybe my expectations too high since I was expecting my teeth to be a brilliant movie star white after just 7 days but the result turned out a lot less glamorous.
Putting on the strips was a bit of a pain and once you do get them on you need to leave them on for 30 minutes. I can imagine people with small mouths might have a hard time trying to fit their fingers and the strips into their mouth. Once you put both the upper and lower strip on you suddenly start building up saliva in your mouth. You can't swallow because the swallowing action might move the strips off your teeth. You can't spit out the saliva for the same reason. You can't talk at all and after 30 minutes your lips get really really dry because you can't moisten them. I spent most of the time lying down on the couch with my head tilted back watching 30 minute sitcoms. Once the 30 minutes are up removing the strips are really easy and you just wash out your mouth with water.
Would I recommend the strips? Yes I would because they are only KD12.5 which is a small fraction of the cost if you wanted to do it professionally at the dentist. You can either pay 100KD or something of the sort and whiten your teeth at the evil dentist or, pay KD12.5 and test your luck out with these Crest strips on the comfort of your couch while watching a rerun of Seinfeld. And hey, if it doesn't get as white as you were expecting them to get you can always buy another pack and go through the whole process again. Final score is a 4 out of 5, anything beats going to the dentist.