Post by Mark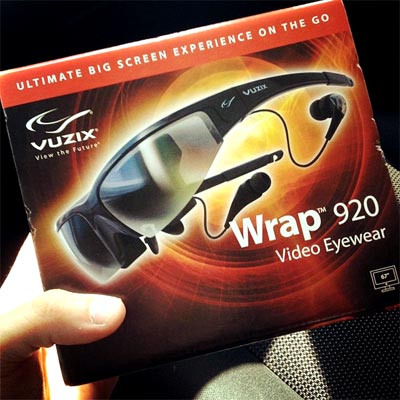 Late last month while at the Avenues I spotted the Vuzix Wrap at Xcite and since I've always wanted to try one of these before I contacted them so I could get one to review. The Vuzix Wrap is a video eyewear which basically means you watch video through tinny screens that are fitted inside the glasses. According to the package, watching videos using the Vuzix Wrap will feel like watching a 67″ screen siting 3 meters aways. After playing around with it for a week I have my personal opinion on video eyewear's in general as well as this specific model.
The Wrap works with regular AA batteries which means you can use them wherever you are. The batteries are fitted into a small external compartment which you could keep in your pockets and the Wrap is connected to the batteries using a wire. The Wrap comes with earphones as well which you need to plug in separately into each side of the eyewear. Inside the box Vuzix also includes an adapter to connect the glasses to Apple devices like the iPhone as well as RCA cables so you could connect it to a videogame console or your TV receiver.
I downloaded Truth in 24 II from the Apple Store (which is the sequel to an incredible documentary btw) and watched it on the Vuzix. At first I was expecting it to feel weird and uncomfortable like trying to watch a 3D movie with 3D glasses but the experience was actually pleasant. I'm not sure if it felt like watching a 67″ screen from 10 feet away, but the screen definitely didn't feel like it was 2cm's away which is what I was expecting. These kind of glasses could be pretty useful when traveling on a plane since you can watch whatever you want in complete privacy and also zone out from your surroundings since once you have the glasses on you're pretty much watching TV in your own little room.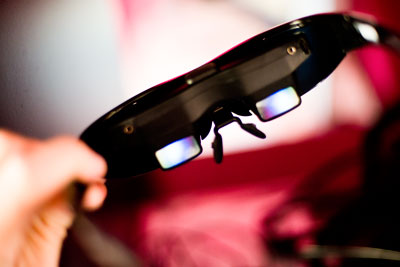 But there are a whole bunch of things I didn't like in the Vuzix Wrap. The video quality left a lot to be desired, other than the fact the screen resolution is low, I felt the contrast lacked with the blacks looking more like grays. I tried to adjust the settings as much as I could but I wasn't able to improve on it that much. Another issue I had was with the earphones. First you can't connect your own earphones which is a let down and second I found the included earphone wires to be too distracting. Each earphone plugs into a socket thats located in the front of the glasses so the wires were touching my eyebrow and face while on their way back to my ears. The eyewear along with the various attachments also felt very plasticky and cheap but the biggest issue I had with the Wraps were how stupid I looked wearing them. If you sit on a plane and put these on people are either going to think you're Ray Charles or some douche with horrible taste who thinks its cool to wear sunglasses inside a plane. This is why although they would be practical to use while traveling, they might be better off being used in the privacy of your home where you can play Xbox on these glasses without having to hog the living room's TV.
I'm pretty glad I finally got to try video glasses on and I kinda understand how Google's Project Glass is going to end up working. Price wise Xcite currently have a special offer on these glasses until the end of the month and they're selling them for KD89.900. If you want to check them out they have them on display at the Avenues branch OR even better you could try to win a pair. All you need to do is just leave a comment below and tonight I'll choose a winner using Random.org. Good luck!
Rules: Only one entry per person and please make sure you use a working email since the winner will be contacted by email. If winner doesn't respond within 24 hours another winner will be randomly chosen.
Update: Comments are closed and I had Random.org choose two numbers, a winner and a backup winner in case the winner doesn't respond.
Winner is #94: Abdullah
Backup is #20: Ahmed