Posted by Mark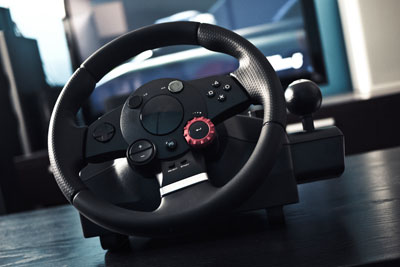 Last weekend Blink sent me a Logitech racing wheel to review for the blog. It was perfect timing since Nat was out of the country which meant I was home alone with Geo, my PS3 and a copy of Gran Turismo 5. The first racing wheel I ever owned was the Coleco racing wheel which I got back in the mid 80's (and which I still have today). It came with a gas pedal and a copy of the back then amazing racing game called Turbo. Of course that was back in the mid 80's and things have come a long way since then.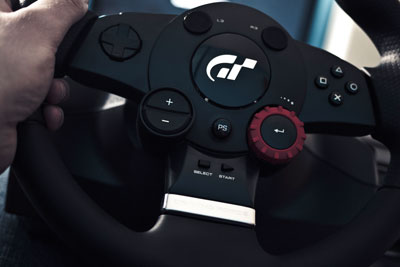 The first thing I noticed about the Logitech wheel is that it was heavy and that's a good thing. The weight gives it a solid feel which I wasn't expecting since the GT wheel is the younger brother of the more expensive Logitech G27 wheel. This is why I was expecting the GT wheel to feel a bit flimsy but it wasn't at all. The racing wheel comes with a gear stick attached to the wheel and a separate gas and brake pedal with a rubber base to stop it from slipping. The force feedback is just amazing, it reminded me of the days when I used to spend all my money at the arcades playing Daytona with my friends. The force feedback is pretty powerful and I actually have to use a lot of force and fight with the wheel sometimes which again makes this steering wheel feel like it's worth a lot more.
I tried the steering wheel on a bunch of games including MotorStorm, Formula1, Dirt2 and Gran Turismo. The steering wheel worked great in everything except Gran Turismo. I just couldn't control my car properly and kept slamming into walls and spinning out. Not sure if it was the settings somewhere or the fact I was still not used to the steering wheel but I just couldn't drive my car properly. I'm sure it was something from my side since this wheel is actually the official wheel of Gran Turismo which means it should work really well with it. On the other hand the wheel worked great in Formula1 and extremely well in the Baja races in Dirt2. As some points it felt like I was back in the arcade playing Sega Rally which is what I liked the best about the steering wheel. It's an arcade wheel at home.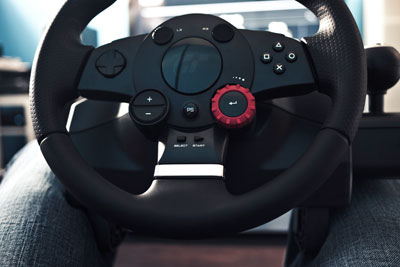 Another issue I faced was with the placement of the wheel. At first I tried to use the wheel on my laps (see picture above) but it didn't work and was actually a bit painful. I then bolted it down to my coffee table but found it too low to be comfortable. Finally I ended up sitting on the floor with the wheel mounted on my coffee table and it felt like I was sitting in an F1 car which worked for me. If you have the space I would recommend you get something like [This]. Overall I liked the wheel a lot and thought it was really well built. If you can't afford the Logitech G27 or don't want to pay that much for a wheel then you can get this from Blink for just KD35. I give it a 4 out of 5.

Now if you're interested in this wheel then you're gonna like this since I'm going to give one away. If you want to win this Logitech GT racing wheel I just reviewed all you need to do is send me a picture of your PS3 setup. The person with the saddest looking setup will win the wheel. Make sure you have 248AM written somewhere in the shot (so I know you took the picture) and send your pictures to gtwheel@248am.com. Send all pictures by Saturday 9PM the latest.