Post by Mark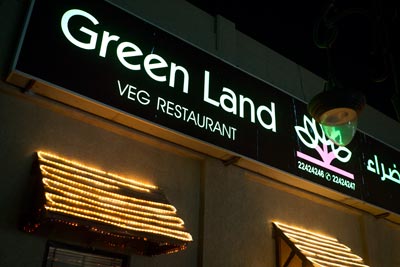 This is going to be a somewhat strange review since I have no idea what I ate or what ingredients made up my meal. I don't even like vegetables but when I found out about the place from @basilalsalem's Instagram, I decided to pass by and try it out.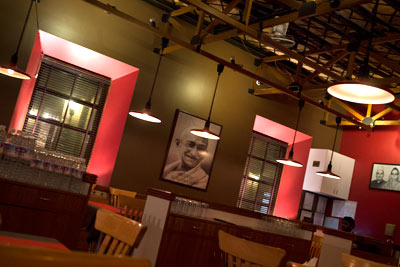 Green Land is an Indian restaurant located in Souk Al Mubarkia. It looked pretty trendy based on Basil's picture but my first impression got a bit tarnished since the table cloth on my table had food stains on it. Turns out they don't change them after each customer but instead just brush off the dirt. That's just gross.
I ordered a bunch of things for me and my brother, most of which were recommended by Basil and some by the waiter. Here is the whole list:
Masala Dosa KD0.900
This is pictured above, it looks like an oversized crepe but instead of it being filled with Nutella it's filled with a potato mash of a sort and comes with Marak sauce on the side which is spicy and full of flavor.
Subzi Maharaja KD1.600
I believe this dish is the one pictured at the bottom of this post. No idea what's exactly inside just that it's a mixture of vegetables and topped with a bit of cheese. It kicked ass. Definitely worth going back for.
Dal Makhni KD1.250
I also have no idea what this dish was. It's picture in the photo below (it's the pot on the right). It was also great, my brother preferred the Subzi Maharaja but for me both are equally as good. If the Subzi Maharaja has one slight advantage it's that it's less saucy and so easier to eat with bread.
Poori KD0.300
Easily the best poori I've ever had. The order comes 8 in a basket each around the size of a CD. They aren't very oily and are delicious.
Butter Nan KD0.400
Again the best butter nan I've ever had. The order comes 4 in a basket.
Phulkas (Chapathi) KD0.400 (for 2 orders)
Great but waited for the poori and nan to run out before ending with these.
Mango Juice KD1.250
They have a juice stand in the middle of the restaurant that makes fresh juice by order. I went with the Mango juice and it was great since the mangos used were ripe.
Water Melon Juice KD1.250
My brother ordered this and I tried it. Tastes exactly like you're eating water melon so it's very refreshing.
Small Water KD0.450 (for 3 orders)
———————
Bill Total: KD7.800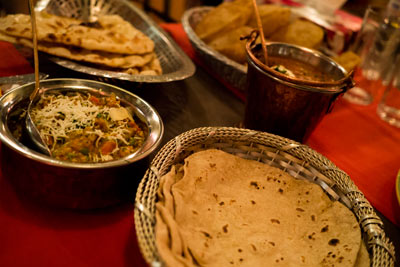 Although we started off on the wrong foot with a dirty table cloth, I have to say the food made up for it. As I said I don't like vegetables but these dishes were so delicious that I realized I probably don't like vegetables because I've been having them the wrong way. Kinda like how I grew up hating zucchini and then I tried it grilled a few months back and now love it. All the breads we had were great, even the dough of the crepe looking dish was delicious and kinda makes me want to go back with a jar of Nutella and ask them to spread it all over the inside. Price wise they're on the affordable side with just the juices adding a bulk to our bill. The service was fast and the waiters friendly and helpful. Their menu is huge with no descriptions so you either have to know the dishes or get recommendations like I did. I had a good time and I'm definitely going back to try more stuff.
Green Land is located at the edge of Souk Al Mubarkia in Kuwait City in the block behind Shater Abbas Restaurant. If you ask around for Shater Abbas everyone knows it. They open from 8AM to 4PM and then again from 6PM to 11PM. Their phone number is 22424246 or 22424247
Update: Forgot to add an important point. They don't accept Knet or credit cards so make sure you bring cash with you.