Posted by Mark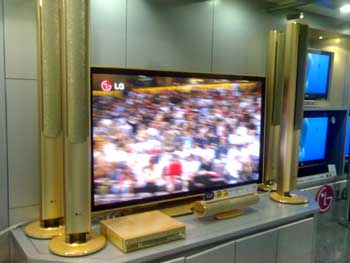 Yeah I know I just posted that I wouldn't post today but then I remembered I needed to post this. LG have a 71inch plasma TV with home theater setup thats gold plated. Its currently displayed at their Salmiya branch adjacent to Alghanim Electronics. Its a really ugly setup as you can see and in person it also looks pretty cheap.
Can you guess how much it costs?
The LG setup you see in the picture above costs KD25,000! Its just ridiculous, not only that but its a display model. If I was the store manager I wouldn't have a KD25,000 TV on display where everyone can come in and touch it, that would depreciate its value. If I a buyer on the other hand and was planning on splashing out KD25,000 I wouldn't want a display model.. I wouldn't want an LG either!