Post by Mark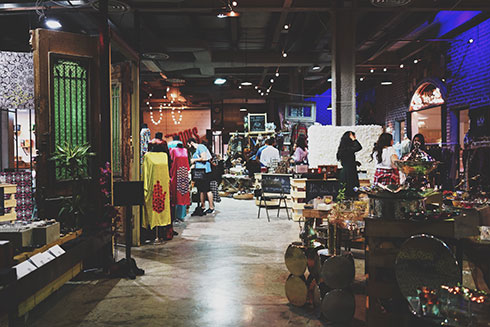 The first time I heard about Sista Brown was when my best friend (who's super ridiculously talented btw) posted about them a few months back when they had an event in Lebanon. I didn't really have any idea what it was but the name was odd so it stuck with me. Fast forward a few months and I find out Sista Brown was having a pop-up shop here in Kuwait. It didn't sound very exciting, their flyer graphic was ugly (even blurry) and there was no mention of what the pop-up shop was about. I didn't even consider going until another friend of mine got in touch with me yesterday and asked me to pass by so I could possibly post about it on the blog. So I did.
Sista Brown turned out to be more of a market than a pop-up shop. I originally got the impression Sista Brown was one shop but it's actually around 20 different designers and start up fashion brands mostly from Lebanon but also from other parts of the world all brought together under the Sista Brown umbrella. The market is being held at Shuwaikh Market and is only going to be there until tomorrow (Nov 12). The most interesting aspect to me was the Armenian food by the Lebanese Armenian bistro called Batchig. If you're interested in trying out Armenian food, Sista Brown brought Batchig from Lebanon for this event and they're there after 7PM serving food. That alone is actually worth going for.
So if you're interested in passing by, the market is open from 4PM till midnight and the food from 7PM. Here is Shuwaikh Market on [Google Maps]
Update: Just found out there is Iraqi food from 4PM to 6:30PM today as well and then 7PM back to Armenian food.