Posted by Mark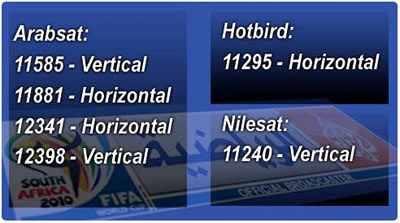 My dad yesterday had trouble viewing the World Cup opening match so he went down to Hawalli to get some help from one of the Satellite shops and to his amazement the whole area was flooded with cars and people. It seems he wasn't the only one facing problems, majority of the people were having the exact same issue so everyone headed to Hawalli at the same time to find out what was wrong with their receiver. Turns out the Al Jazeera World Cup broadcast was sabotaged. Someone was blocking the signals and Al Jazeera are pissed and are vowing to catch the culprits behind the jam.
"We do not know yet who is behind the interference, but we will go after whoever has caused this terrible act that has deprived millions in the Arab world from watching the start of the World Cup," said Nasser Al Khalifi, the chairman of Al Jazeera Sports.

"We are shocked by what happened because the World Cup is not a political programme that someone wants to block. It is a global sports event and we had spent months negotiating with Fifa to enable viewers in the Arab world to enjoy some matches for free. Unfortunately, there are some people who have political motives, but we will go after them," he said.
I have no idea who the people he's referring to, I don't know how anyone can take advantage politically by blocking the World Cup signal. For more information here are three sources [Article 1], [Article 2] and [Article 3]