Posted by Mark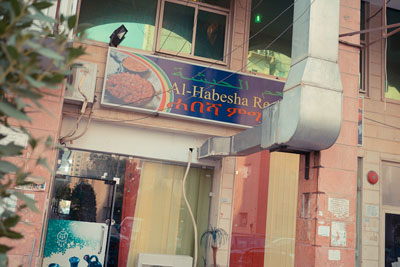 After posting about the Jamaican restaurant last week a friend suggest we should try an Ethiopian restaurant so I found out about one located in Hawalli called Al-Habesha. The place is located behind Bin Khaldoun street and right next to a bunch of other Ethiopian shops.
We walked into the restaurant and were greeted by a friendly lady who told us we could sit anywhere we wanted. There were a few tables occupied by other diners and the place filled up even more when we were leaving later on. They had Ethiopian TV playing music on the television and the place was decorated with bright red, yellow and green stripes. They didn't have a menu but my friend from previous experience abroad kinda knew what we should get. The waitress asked us if wanted rice or Injera (their flatbread) and we said we wanted flatbread. She then asked us if we wanted vegetarian, meat or chicken. We went for one vegetarian and one meat. For the meat she recommended the tibs which she said we would like so we went for it.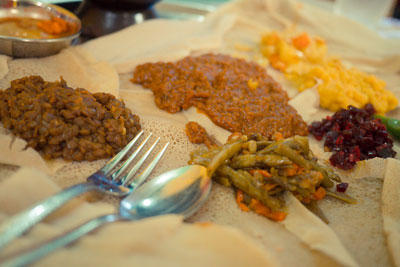 The food arrived awhile later and it looked really good. The food was served on a large tray which was covered completely with their flatbread. The food was then placed on top of the bread in various spots. At one end of the tray was the meat dish which came in a small bowl with hot coals underneath to keep it warm. The reason I wanted to try Ethiopian food was because the flatbread is basically the plate and you eat your way through it which is an interesting idea. I also liked the fact that the dish is meant to be shared. Looking around the restaurant it was groups of two sitting and sharing a dish and I loved that.
Our dish was fantastic and unexpectedly good. The taste of the various stews (called wats) kinda reminded me of Indian food while the meat although not very tender was full of flavor. When we were done with our dishes we ordered Ethiopian tea which is regular tea mixed with cinnamon and a bunch of other spices. Finally we asked for the bill which turned out to be just KD5.5 for the meat and vegetarian dish plus two bottles of water and two cups of tea. I really loved the experience and would recommend the place but again, this is a hole in the wall joint so don't expect much in terms of appearance. Finding Al-Habesha is easy, if you're on Bin Khaldoun street in Hawalli, keep McDonalds on your left and drive straight until you see Subway on your left. The restaurant is located on the street behind Subway and Zawya Complex.