Post by Mark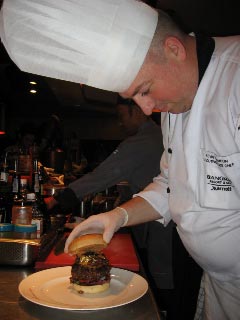 I am going to be in Thailand next week for work and there isn't much I am looking forward to except for this burger I read about once that costs like KD50. Someone had a posted a link to it under my Slider Station burger review and ever since then I've been wanting to try it. So I was just checking online to see what place that burger was available in and to my surprise it turned out this special burger was being served at Trader Vic's which is located in MY HOTEL! From all places in Bangkok that I could have stayed in I ended up staying at the exact same hotel where one of the most expensive burgers in the world is served. If that's not a sign I don't know what is.
Why is the burger so expensive? Well here is a run down of its ingredients:
Matsusaka beef (KD52 per KG)
Morel Mushroom (KD107 per KG)
Black Truffle (KD70 per KG)
Foie Gras (KD15 per KG)
Gold Leaf (KD2)
Only thing I am worried about is that I am a fast eater so paying KD50 for a burger I am going to gulp down in 5 minutes is a bit too much. Maybe this week I should start training myself to eat slower… [Link]
Update: I just called the hotel, the burger now costs around KD55. I guess even this burger is effected by inflation. I was also told I need to book the burger ahead of time which makes sense.