Posted by Mark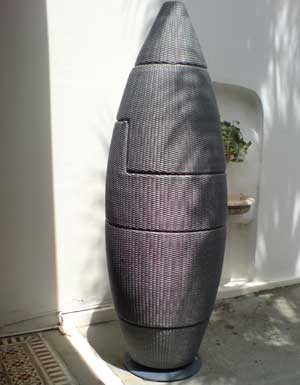 I was showing my partner at work the blog uncrate.com when we got to the post on the Obelisk chairs (pictured above and right below). I was telling him about how cool the design was when he told me his cousin has them in her store. So during our lunch break we both headed to his cousins store called Home House which is located adjacent to the Amiri Hospital on the Gulf Road.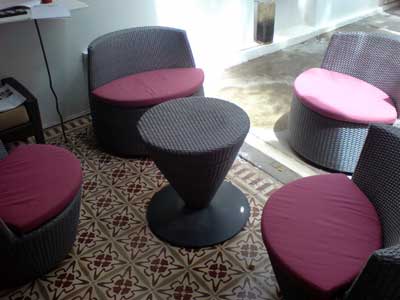 Right as we walked into the store which was actually an old Kuwaiti house we spotted the Obelisk right in front of us. It was exactly like the one we saw on uncrate except we didn't expect it to be this big. We were given a tour of the place and it turns out they have some really really nice stuff. I really don't know where to start since I literally fell in love with their brands.
I guess I will start with my favorite brand they carry which is Vange. They have some of the most beautiful industrial designs. Just flipping through their website now while writing this is giving me goose bumps. Most of the Vange stuff is by order but they had the K-Baby, the K-Bench and the MAUI console on display. I loved the K-Bench and the MAUI series of shelving is just so hot!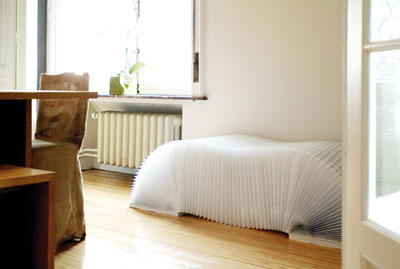 After the Vange we were shown some stuff by Gandia Blasco. Their stuff are mostly for patios, chalets and beaches, they reminded me a lot of the stuff I see on CSI: Miami. Their style is the very modern outdoor furniture which comes all in white, very straight edged with white drapes and they are very very sexy stuff.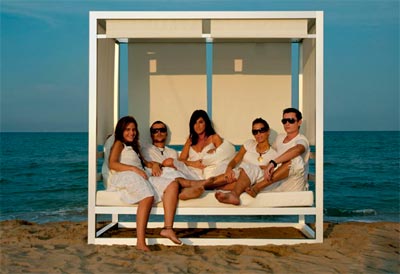 Finally we were shown some lighting systems by Tobias Grau. It was another brand I hadn't heard of before but again they have some really really slick looking lamps. So minimal and so cleanly designed. If Apple were to make lamps this is how they would come out.
I am probably going to go back there and see how much the MAUI console and the K-Bench cost since I would love to have them in my place. I didn't ask their prices while I was there for some reason so I don't know how much they cost. The Obelisk costs around KD1,600 which although isn't cheap, its still cheaper then in the US where they sell for $8,500.
If you want to pass by the place its very easy to find. If you take the right after the Amiri hospital you will find that the first house on the left is called Bait Al Cedra. They are located right inside Bait Al Cedra. Its right next to the Karizma gallery. You can call them on 253 0358 in case you get lost or visit their website www.homehouse.be
Here are the websites to the brands:
Vange
Gandia Blasco
Tobias Grau
update: I made a mistake. The store is called Home House not Bait Al Cedra. Bait Al Cedra is the name of the old house where Home House is located. I just edited the post above to reflect this.