Posted by Mark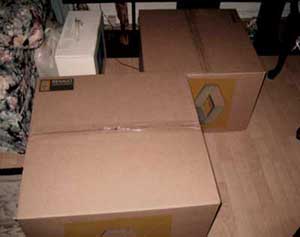 For those of you who don't know, Marzouq, Khalid, Bader and myself will be participating in this years Red Bull Flugtag which will be held at Marina Waves next month. Our team is called Imperial27 and we are planning to kick some major ass.
Our plane should have been done by now but getting stuff cleared from customs in Kuwait is really a big hassle specially since its Ramadan now. Well the guys (Khalid actually) managed to clear two boxes a couple of days ago which contained some parts we needed for the plane. We ordered them from Renault which although sounds really cool the parts themselves are actually pretty boring looking, they are part of the system that will be propelling our plane off the ramp. Problem is we (cough cough Bader cough) measured one part wrong and now it won't fit so we are trying to find a solution. Once everything is sorted and put together it should turn out pretty cool.. if our theory and calculations turn out to be right that is.
The Imperial27 website is also nearly done and should be ready by next week. It will be located at www.imperial27.com and we will launch the site by revealing our plane there so in case we couldn't finish putting our plane together by then we will have to push back the launch of the site. We are also trying to see if we could do a live broadcast of the revealing but we have some minor glitches that we need to work out. Anyway will keep everyone posted with any updates.