Posted by Mark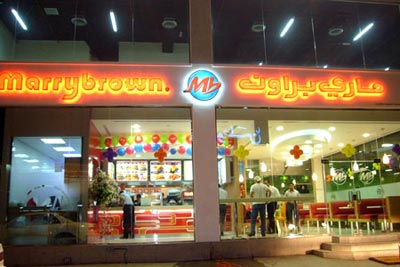 Yesterday my friend asked me if I wanted to try out a new burger place called Marrybrown. I hadn't heard of the place before but he told me it was an American franchise. That turned out not to be true because according to Wikipedia "Marrybrown Family Restaurant is a Malaysia based fast food chain". Malaysia, America.. they both end with the letter "a" so I can see how he could have gotten confused.
We drove to the restaurant which is located at the beginning of Canada Dry street next to a car wash. It's a really crappy location for a new franchise and the place isn't even well designed from the inside. I checked out their menu and there wasn't a single burger on the menu! Turns out Marrybrown is more like KFC and not McDonalds. I ordered a chicken fillet combo, swapped the fries with onion rings and also ordered a chicken ceaser wrap.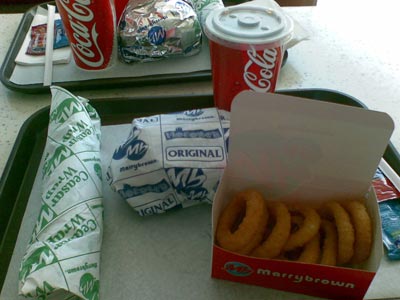 We sat down and the food quickly followed. After a few bites it became obvious that although the place looked shady the food seemed to be fresh and everything seemed to taste fine. Thats where the problem is with Marrybrown, its just too normal. There really wasn't anything I ordered that would make me want to come back again. If I feel like a chicken fillet I would think McChicken from McDonalds or Zinger from KFC. The location and the interior doesn't help their situation either. Maybe if I ever wash my car at the car wash next door and I feel like grabbing a bite I wouldn't mind Marrybrown but I don't think I would ever go out of my way just for them. The final score is 2.5 out of 5.