Posted by Mark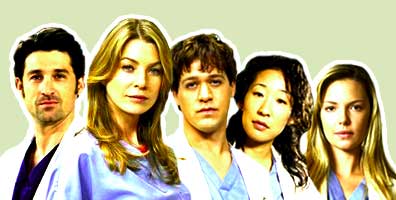 Below are a list of TV shows I am currently watching, what I think of them and what episodes I just finished watching.
Grey's Anatomy (Pictured above)
Season 2, Episode 18
Really entertaining and addictive, I am watching 2 a day.
X-Files
Season 1, Episode 12
Used to be my favorite show, I missed out on a lot of episodes when I was in university so I just started watching them all over again. I got 9 seasons which means I should be done by Christmas!
Prison Break
Season 1, Episode 13
I hated the show when I first started watching it because I didn't like the main guy. Now though I still hate him but I really like all the supporting actors who are pretty fucked up but in a cool way.
24
Season 5, Episode 12
The best show ever, I have said it a million times already and will say it a million more times, Jack Bauer is just the coolest character ever. I was watching the movie Stand By Me the other day and it turns out Jack played the role of this delinquent teenager. It was an old movie and he was really young in it but he still looked a lot like Jack does now which made things weird.
Family Guy
Season 1, Episode 8
I watched the movie first, then I watched season 4 and now I am watching season 1. Doesn't make sense I know but better then nothing.
Arrested Development
Season 3, Episode 10
I only have 3 more episodes left and I am scared to watch them. Arrested Development got canceled last year and the show ends at episode 13 of season 3 so once I am done, I am done forever. I never want the Arrested Development experience to end so I am watching only 1 episode a week but I know in three weeks time it will be all over, one of the funniest shows ever made will be over. Its sad.
The IT Crowd
Season 1, Episode 4
"Yeah, you do know how a button works, don't you? No, not on clothes. No, there you go, I just heard it come on. No, that's the music you hear when it comes on. No, that's the music you hear when… I'm sorry, are you from the past? "
Reno 911
Season 1, Episode 3
This show is like a spoof of the TV show COPS. Sometimes I find it really corny but other times I can't stop laughing.
Knight Rider
Season 2, Episode 3
KITT was really pimped out. He had a built in video game system, GPS navigation, video conferencing, Nitros, night vision, voice activation… some really high tech stuff..
Desperate Housewives
Season 2, Episode 15
Its not as fun as season 2 but doing a hell of a lot better then Lost (read below)
Lost
Season 2, Episode 15
I have no clue why I am still watching this crap. Season 2 has been a disaster, the show has become extremely lame, boring, uneventful and repetetive. What started off as one of the most exciting shows ever has taken a 180 degree turn for the worst. Total crap.
Curb Your Enthusiam
Season 1, Episode 8
Larry Davids charactar is a mixture of Jerry Seinfeld and George Costanza. He's a bit weird at first but you get used to him.
Weeds
Season 1, Episode 10
This show started off boring but it started getting really good around episode 3. Its about a school mum who starts dealing weed to make some money. First season is only 10 episodes and now I have to wait till July for season 2, I can't wait.
Update: I added Weeds, don't know how I forgot about it.