Posted by Mark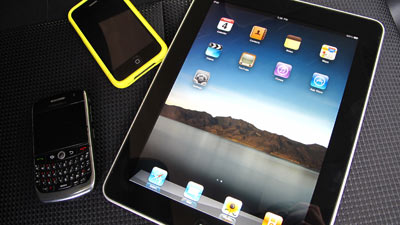 Just got hold of an iPad from X-Cite to review and check out. It just arrived from the States and it's one of the first iPads in Kuwait. So far my first impression is that the iPad looks even cooler than the pictures, it's really an incredible device I love it, the screen is amazing, better than the screen of my MacBook which I'm currently typing on. X-Cite just got a small batch of iPads today and they're on display at their Avenues X-Cite branch so you can go and try them out.
I'm going to play around with my review unit for a bit more and post some more details later today. I'm curious to see if I'll be able to buy books from the iTunes store.
X-Cite are getting the 16GB iPad with WiFi and the price is KD299. If you want to pre-order an iPad you need to leave a KD50 deposit and you can only book one unit since quantities are limited. It's first come first served. You can only pre-order the iPad from the Avenues X-Cite branch starting at 7PM today. The earlier you book, the higher the chance you get your iPad in one of their next shipments. As an added bonus, if you mention my blog when booking you will get a free flash drive. If you want to play with an iPad pass by the Avenues X-Cite branch after 7PM today since that's when they will go on display.