Posted by Mark
I don't think there is anybody who doesn't like soft serve ice cream which is why setting up your own machine at home, diwaniya or chalet is such a great idea and one that turns out isn't too expensive.
There are just three things you need, the soft serve machine, the ice cream flavors and the biscuit cones.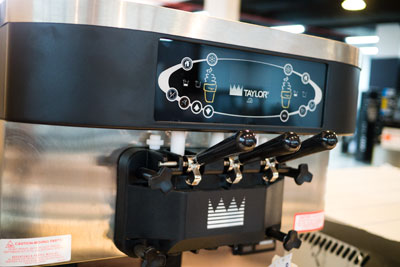 I'll start with the machines since this is where most of the investment is. I passed by two locations, a small store in Dajeej and the Mabrook store in Shuwaikh. I'm sure there are other stores as well but those are two I was told about. The small store in Dajeej had only one machine and was selling it for KD4,000. Mabrook on the other hand a around 4 or 5 different machines with the most affordable starting at KD500. It's the Italian made Ugolini mini gel and it holds only one flavor. They also had other machines that were more expensive including the Taylor branded one pictured above which is the same brand Pinkberry uses. Obviously that's overkill for home use but in case you have around KD5,000 to splurge that's the Rolls Royce of these machines.
The second thing you need to make your soft serve ice cream is the actual product mix which you'll have to fill the machine with. KDD sells them and they had two sizes to choose from. The picture above is of their 1 liter pack and you can get it in either vanilla or chocolate flavor. Each pack should be enough for around 6 to 9 cones. The 1 liter pack costs 575 fils and this is the size I would recommend getting for home use or small diwaniyas. But, they also sell 12 liter packs. The 12 liter packs cost KD6.5 each and can make around 80 cones. They also have an offer now where if you buy 5 packs they give you one free. Finally you need cones. KDD also sell the biscuit cones and a pack of 800 costs KD4.860.
So to summarize the post it's going to cost you around KD500 to set up a small soft serve station at home, diwaniya or chalet. Depending on how often it's used it could be pretty feasible.