Post by Mark
As I mentioned in my earlier post, I'm flying Turkish Airlines from Kuwait to New York Business Class courtesy of the airline. The trip is divided into two stages, the first is a short flight from Kuwait to Istanbul while the second is the longer journey, Istanbul to New York. One of the main reasons Turkish Airlines wanted me to review them is because they've gotten a brand new plane for the Kuwait – Istanbul leg of the journey which they've recently entered into service.
The new plane is an Airbus A321 and I think it was entered into service around a month ago if I'm not mistaken. First thing I noticed once I boarded the flight was the trendy color scheme of the seats which were dark gray and had minimal red accents and bright turquoise pillows. The seats have built in power sockets, USB ports, a large pull out screen and a remote control. Since the flight is a short one the seats don't fold down flat into beds but they do recline back a good deal with leg supports as well. Since this was business class there was lots of legroom as well.
The trip going to Istanbul is 3 hours and 20 minutes long. One of the advantages flying with Turkish Airline to the States or any other European airline is the fact your journey starts by flying west which results in a quicker overall trip since you don't waste time backtracking your flight path (if your journey started by going east for example).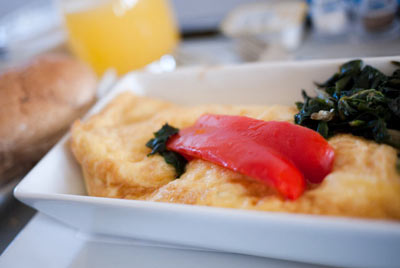 Breakfast was served on this trip and even though I was told by some readers the food would be great I actually wasn't expecting much for this first stage of the trip. I was wrong since the food turned out to be pretty good. They started of breakfast with some cheeses, labneh, tomatoes, cucumbers and olives. A light combination which I've noticed Turkish Airlines likes a lot since there was a similar setup at different stages of my trip (lounge and Istanbul-NY flight). There was also a bit of turkey, freshly squeezed orange juice, fruits, jam, butter and yogurt. Once I was done with my starter I was served a cheese and tomato omelet which was also very good. The whole meal actually made me look forward to the one I would be having on my next longer flight since there would be a chef on board on that one.
It was a pretty good start to my trip. My only quibble and I'm being picky here is the lack of a phone network on-board. The only planes I've been on where I could use my phone while flying to check my email and chat on BBM are the Wataniya Airways ones and I'd like to see other airlines introduce this feature as well. Below are some pictures I took on this trip.
Note: I will be posting about my Istanbul to New York flight as well as the lounge in separate posts.