Posted by Mark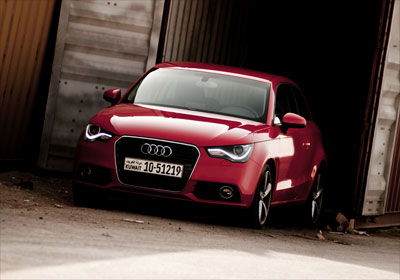 Last week just before Eid I was able to get a hold of the new Audi A1 from the dealership to test drive over the holiday. I had been nagging them for a test drive since June but since I wanted the car for more than a day I wasn't able to get my hands on it until now. I've always had a thing for hatchbacks but I also got interested in Audi's recently and even more so after watching Truth in 24 which is a need to watch movie if you love cars.
The car a fuel efficient 2.0l engine pumping out 122hp which doesn't sound like much on paper but in reality I found the car pretty zippy. That probably has a lot to do with the 7-speed automatic gearbox that comes standard with the car. The first day I drove the A1 I was actually pretty annoyed with the gearbox since whenever I stepped on the gas pedal for just a bit more power the car would dramatically drop down 3 or 4 gears which I thought was overkill. But, by the second day I had gotten used to it and started appreciating the gearbox a lot more. It's very smooth and really does make the engine power more readily available which is why the car felt zippy. Still 8 gears is a lot of gears and if you use the paddle shift then you'll be doing quite a lot of clicking.
I'm around 6 feet tall and found the car cozy with a very adjustable seat and steering column. It was actually pretty comfortable… that is as long as you're sitting in the front. The car is a 2-door and I tried sitting in the backseat and found it too claustrophobic for my size. I wouldn't mind sitting in the back for a 5 or 10 minute ride but I definitely wouldn't want to sit there for a trip down to Bnaider. The trunk is also pretty small, you could fit one large travel bag but barely. But since it's a hatchback the back seats fold down and you end up with a much larger carrying capacity.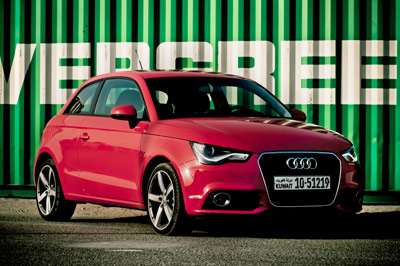 Tech wise the car I drove came with LED lights which I think helps give the car an eye catching look. The car I drove didn't have navigation (it's an extra option) but it did have a popup screen and a pretty good sound system which comes with two SD card slots to use for MP3s. You could also purchase an iPod cable or even stream music from your iPhone to the car using Bluetooth which is what I was doing most of the time.
Overall I had a lot of fun with the car. I drove it all the way to the junkyards at the end of the 6th ring road and even through Bin Khaldoun Street traffic so I managed to experience a wide variety of environments. It's easy to maneuver as a hatchback should be but the car also feels really well built with a nice thick steering wheel and great feeling buttons and nobs. Most importantly the car looks great which at the end of the days is probably the most important thing. The starting price of the Audi A1 is KD6,995 but the car I drove costs KD8,995. If you're interested you can call them up for more information on 1811118.