Posted by Mark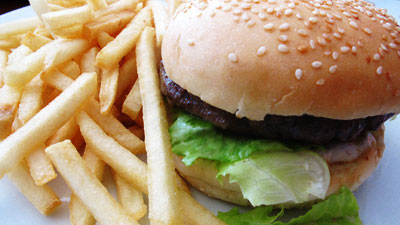 I personally think the food in Lebanon is a mixture of good and bad. We obviously do good Lebanese food, we also make some of the best pizza's, we've got some really great crepes and most importantly we have the world's best beer (Almaza FTW!). One thing we strangely don't have is good burgers. For some reason no one has cracked a good burger in Lebanon. I've been recommended so many places and every time I try a burger there I am left disappointed. Let's Burger is a Lebanese burger creation which I was hoping would break this cycle.
The first thing I noticed when I opened the menu is they had mayonnaise listed under the "5 Elements for a perfect burger". That's when I knew things weren't going to end well. Mayonnaise??? I continued flipping through their menu and decided to go with the stuffed cheese burger. I wasn't asked how I wanted the burger done.
A short time later my burger arrived and I quickly took my first bite. Two things grabbed my attention. The first thing is, I liked the beef patty with the stuffed cheese inside. Because the cheese was all soft and gooey it made the beef patty very juicy. The second thing that grabbed my attention is the bun, it was cold and cracking. That meant the bun wasn't fresh and was refrigerated. Cold bread + hot beef patty = Doesn't work. Their sauce also wasn't anything to write home about since although the description in the menu said grainy mustard mayo sauce, what I tasted was mostly just plain mayo.
For the final score I'm giving it a 2.5 out of 5. The patty was fine but they need to fix the bun issue, it shouldn't be too hard to get fresh buns every morning delivered. They also really need to cut down on the mayo, not only is it not an important element in a good burger… it shouldn't be on a burger in the first place. Period.


Let's Burger is located at 360 Mall.
The cost of the Stuffed Cheeseburger was KD3.450
Here are the burger places I've reviewed so far:
Applebee's


Bredz



Burger Boutique


Eighty 6 Bistro


Fauchon



Fuddruckers


Hashi




Gaucho Gril


Gourmet Burger Kitchen




Johnny Rockets



Munch




Napket


Nino



Papa John's Burgers


Prime & Toast



Ruby Tuesday




Slider Station


Sheraton Hotel



Smoke House


The Burger Hub



The Butcher Shop



The Little Oven


The Meat Co.


Wimpy