Posted by Mark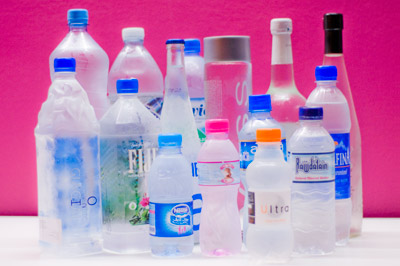 Well this post was going to be the ultimate water review but after drinking around 2 liters of water I threw in the towel. Other than the fact that I think I overdosed on water, they all started tasting the same after the third bottle. BUT, it didn't go all to waste. I was able to answer the most important question… Does a KD5 bottle of water taste better than a 100fils bottle?
I picked up my bottles of water from four different sources, Dean & Deluca, Carrefour, Sultan Center Souk Sharq and Sultan Center Salmiya and I paid a total of KD17.330 for 19 bottles of water. I actually spent the bulk of that at Dean & Deluca purchasing 4 bottles of water which came out to KD11. I've listed all the bottles below with their prices but the KD5 bottle I will be reviewing is the one I got from Dean & Deluca called 10 Thousand BC. This is what it says on the back of the bottle:
Locked in an icy vault for over 10,000 years, this water comes from the remote and sheltered Coastal Glacier Range, that literally vibrates with the rich fragrance of health and vitality. Experience the pure, natural taste captured in 10 THOUSAND BC.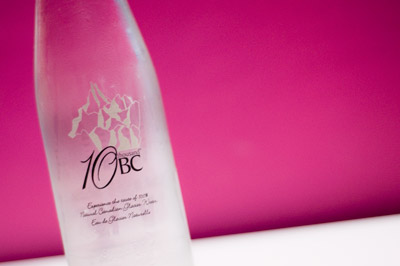 The competition? Our very own locally produced Al Rawdatain. It's my favorite water and I like the brand a lot probably because it reminds me of my childhood. So how was it going to do against the water that comes from the beautiful coastal glacier range of British Columbia, Canada? Not very good.
You can take what I am about to say with a grain of salt since I am no water expert but the 10 Thousand BC water did taste better. I really felt like I was drinking snow, it smelled like snow and tasted like snow. Nat thinks I am losing it but I still have a bit of water left in the bottle (saving it for a special occasion like when Prince Charles comes over) to prove her wrong. The bottle looks great and the story behind the water is breathtaking. Al Rawdatain on the other hand tasted pretty normal but at 60fils its over 500 times cheaper. The Al Rawdatain water also came in a plastic bottle which although not as pretty as the 10 Thousand BC glass bottle can at least handle a fall without breaking.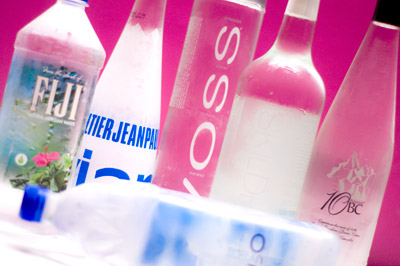 So 10 Thousand BC tasted better but seriously who would buy a KD5 bottle of water to drink regularly? It's actually one of the most expensive bottles of water in the world. I mean KD5 is an affordable luxury, anyone can afford it if they want to try it but does anyone drink it casually?
Check out the list of prices below.