Posted by Mark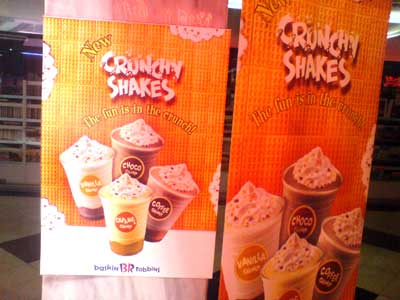 Baskin Robbins have a new milkshake called the Crunchy Shake. What makes it different from the regular shakes is that they blend a waffle cone with it so that while you are sipping your drink you get to taste the tiny bits of waffles. In theory it sounds good but my experience wasn't.
First you get to choose three different flavors of ice cream for your shake. That is the fun part since you have a large variety to choose from but I went with the safe route and just chose chocolate mousse for my drink. The employee then took my scoops, dropped them into a blender with milk and a large waffle cone and then turned it on.
The flavor of the drink wasn't that bad, the waffle cone bits actually do make a difference. The problem I had with my drink was that it was too liquidi, it was as if the employee put too much milk and not enough ice cream. That ruined the shake for me and after drinking half of the cup it just became really gross. I don't know if this is how the shake was meant to be but I didn't like it. Final score is a 2 out of 5.