Posted by Mark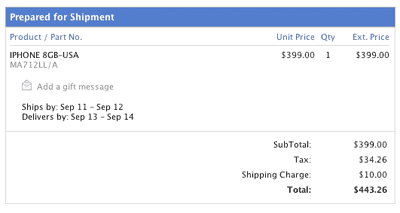 I thought a lot of people knew about this already but I am still getting emails from people telling me they tried ordering an iPhone from the Apple Store but that its asking them for a US shipping address.
What you need to do to order an iPhone from the Apple Store or any electronic item from Amazon for that matter is to set up a US forwarding mailbox. Basically its a mailbox thats located in the States and anything that arrives in it will get forwarded to your address here in Kuwait.
There are four companies in Kuwait that offer this service and I've tried all four of them, my favorite and the one I use the most is U Shop We Ship. The main reason I prefer it over the competition is the fact that signing up to their service can be done online and all payments for the shipments can also be paid online. This makes things really practical. Items usually take 3 to 4 days to arrive to Kuwait once shipped from your US mailbox.
I know a lot of people have tried ordering iPhones from the Apple Store and have had their shipments canceled. I don't know why thats happening and why it works with some people and not with others. I myself have ordered 3 iPhones with the last one around 10 days ago and I haven't had any cancellations yet. I've also received the iPhones quickly without paying any custom fees. I don't have any advice or tips on how to avoid getting your order canceled, I guess it could be random thing.
update: To find out what firmware you have on an un-activated iPhone do the following dial *3001#12345#* and then push "Call"
If you see 03.12.06_G then your firmware is 1.0.0
If you see 03.14.08_G then your firmware is 1.02
If you see 04.01.13_G then your firmware is 1.1.1