Posted by Mark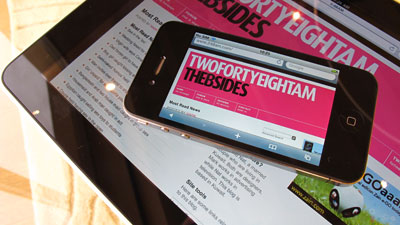 I have had the iPhone for a week now and so far like the majority of iPhone 4 users, I haven't had any reception problems (note: I am using an Apple Bumper). No dropped calls or anything. As I've previously mentioned the reception is actually better than my previous iPhone 3GS. With the iPhone 3GS the 3G wouldn't work in my office just EDGE while with the iPhone 4 I now have 3G in the office. Another example is when I park my car underground when I go to my gym, before I wouldn't be able to use the phone there because I would get a no network error, now I get 1 or 2 lines of signals and can make calls.
Other than the much improved reception and antenna, another improved feature is the camera. The iPhone 4 camera is just amazing, I'm actually finding myself shooting a lot more pictures with my phone now and if you check my twitter page you'd see that. The camera is probably the best new feature followed by the screen and improved reception.
Now not all is perfect. What I am facing is issues with the proximity sensor. That's actually the problem most iPhone 4 users are complaining about. The problem is the sensor the tells the phone that its next to the ear and should shut off the screen doesn't work all the time. So I would be talking to someone on the phone and then suddenly I put the person on speaker phone or hang up by accidentally pressing a button on the screen with my ear. Luckily Apple are aware of the problem and admitted this was an issue that would get fixed with the next software update.
Other than that it's all good, The screen is amazing, battery life is great and the phone is just really fast and responsive. I highly recommend it.