Posted by Mark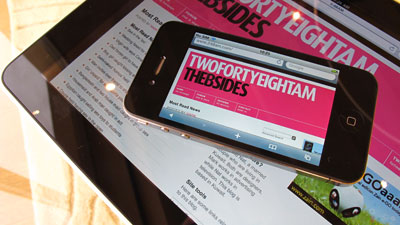 Just had the new iPhone 4 delivered to me to try out by X-Cite. First thing I noticed is how bulky and ugly my "old" iPhone 3Gs looks next to the new iPhone 4. Second thing I noticed is how the new screen doesn't look too different from the older screen. From the way everyone has been talking about it online I was expecting a much bigger difference but my first impression is they look the same. I will play with the phone all day until I have to give it back to X-Cite and then later in the day post a more detailed impression on it.
If you want to check out the iPhone 4 yourself you can pass by X-Cite at the Avenues this afternoon. They will be taking pre-orders as well starting at 5PM. The price of the 16GB iPhone4 is KD299 while the 32GB is for KD359. These are officially unlocked iPhones. First shipment of iPhones will arrive to Kuwait in 1 to 2 weeks.
Update: I am guessing I currently have one of the first iPhone 4's in the Middle East (and probably Asia) since I couldn't find a post by anyone else about this. That's pretty cool.