Posted by Mark
Getting an iPhone 4 is pretty simple but you need patience since the iPhone 4 is currently in short supply and can take up to 3 weeks to be delivered. To order an iPhone 4 you also need the following:
1) Local credit card
2) Aramex Shop&Ship account (not sure if it works with others like DHL)
Then what you need to do is go to the UK online Apple Store which is located at the following link address:
http://store.apple.com/uk
Once there click on the iPhones and then select the iPhone you want and check out. If you never ordered from Apple before you will have to create an account. Put your US Aramex mailbox as your billing address as your Kuwait base credit card address and then put your Aramex UK mailbox address as your shipping address. The UK iPhones are officially unlocked.
I placed my order on June 25th for a black 16GB iPhone 4 with a black Apple iPhone 4 Bumper. I paid the following:
iPHONE 4 BLACK 16GB 424.68 GBP
IPHONE 4 BUMPERS BLACK 21.28 GBP
——–
VAT 17.5% 78.04 GBP
——–
Final Amount (VAT included) 524.00 GBP
I paid with my NBK credit card and according to my bank statement the amount I paid in Kuwaiti Dinars was 236.570.
My iPhone 4 shipped on July 9th and arrived to my Aramex mailbox on July 15th. It showed up in my Aramex mailbox the same day and then shipped from the UK on July 16th. I received the iPhone today July 21st after being held in customs for 3 days.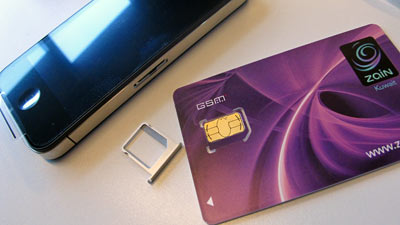 The Aramex shipping charges were KD5.750 and that included the customs clearance fee. This was only for my iPhone 4, my iPhone Bumper is still held in customs. On a side note when the iPhone arrived it was unopened. Not just the actual iPhone box but the larger box the iPhone came inside had not been opened neither by Aramex nor customs.
I also passed by Zain and picked up a micro-sim card which you need for the iPhone 4. The sim card cost me KD5.
If you have any questions ask it below. Regarding antenna and reception problems, I believe this was blown out of proportion by the media and as Steve Jobs said it's not a problem and 0.5% of the 3 million iPhone users have had reception issues. Many popular phones have similar reception issues which you will never have to experience if using the phone normally. If you have any questions regarding antenna problems click [Here]
Update: Some examples of phones that have a similar antenna issues
Samsung Galaxy S
Palm Pre
Google Nexus One
Google Droid
Nokia E71
Blackberry Bold