Posted by Mark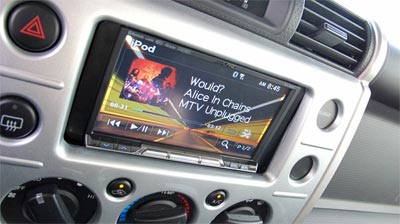 Here is a quick review of the Alpine iXA-W407.
It works great with the iPod as expected. I previously had the Alpine iDA-X001 installed in my Wrangler and one annoying thing in the X001 was searching for an artist. It doesn't get much better in the W407. You can't search using an onscreen keyboard to type an artist name for some reason instead you need to scroll down to the artist u want. You can scroll down by letter as in if you are looking for Smashing Pumpkins you can press "page down" when u r at A and it will take u to B and u keep pressing till u get to S. A painfully long process which I do not recommend while driving. Once you get to S you then have to scroll down regularly by pressing "down" untill u get to Smashing Pumpkins. Takes forever and not practical at all.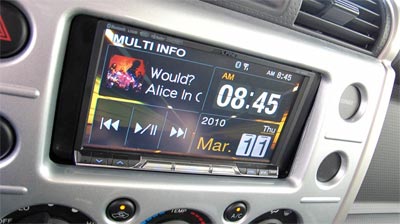 On the bright side, that's the only negative thing I found. The multi display screen is very cool (see picture above) which basically allows you to display up to 4 different kinds of information on the same screen. I Just wish there were more widgets to add out of the current 6 including calculator and sound adjustment which are not pictured above. What I would have liked to have seen is a weather widget (could use my iPhone's internet connection for the date) or an RSS reader.
The W407 has Bluetooth built in. Once I get into the car my iPhone connects to the Alpine automatically and whenever I want to call someone I bring up the phone number on the Alpine screen and call it. When I get a phone call I can either answer it on the Alpine or if I want privacy I can talk directly on my iPhone. Now all thats pretty normal but my favorite thing is the fact that I can stream music from my iPhone to the Alpine using Bluetooth. Like my iPod and the Radio I have Bluetooth as an audio source. When I select Bluetooth as a source whatever sound my iPhone makes I hear it on the cars sound system. Other than listening to your iPod's music wirelessly or playing games and have the sound blast out of the cars sound system, another cool feature is the fact I stream music from the web over 3G and onto my car stereo using bluetooth. I've got the iPhone app WunderRadio (which I've posted about before) and I use it to tune into radio stations in Lebanon and stream them into my car. I don't have any problems streaming the Lebanese radio stations since they broadcast in EDGE but Ministry of Sound UK for example streams as 3G and after a minute or so the music cuts off and I have to buffer for like 10 seconds which is very annoying. But, I am going to be upgrading my iPhones internet connection from 600kb to 14.4MB at the end of the month which should solve my problem.
I really like the iXA-W407 and if I had to do the purchase all over again I would in a heartbeat. The final score is a 4 out of 5. The lack of a decent search feature and the fact there aren't any extra widgets I can download and install are the reasons it's not perfect. If anyone has any specific questions regarding that Alpine unit or the install just ask it below and I will try to answer it. Regarding the PAC TR7, it worked perfectly with the W407. With the TR7 install I can watch videos and change the stereo system settings while I am driving. Without the TR7 I would have to put the car in PARK and raise the handbrake. I also had the PAC SWI-Jack installed which allows the Alpine to be controlled with the FJ's steering wheel buttons. The PAC SWI-Jack works on a number of cars and with a number of sound systems.
I ordered all my items from Amazon, here is the list with links:
Alpine iXA-W407 Digital Media Station $554.48
Alpine HCE-C107D Rear View Camera $176.99
Scosche TA2076B 2007 Toyota FJ ISO/Double DIN With Pocket Kit $19.58
Scosche Stereo Wire Harness Toyota FJ Cruiser $12.31
PAC TR7 Multi control interface bypass module $23.26
PAC SWI-JACK $42.90
Total: $829.52