Post by Mark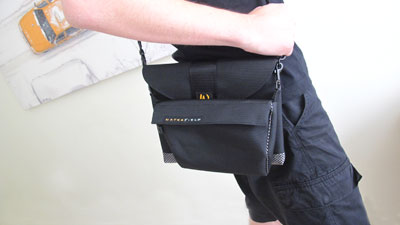 I'm a big fan of WaterField products. I got my first Apple iBook sleeve and bag back in 2001 from them and it still looks brand new today, the product quality is outstanding. That's why when I got my iPad first thing I did was check out WaterField to see what they had to offer. Turns out they had a few different sleeves on offer but I decided to go with the iPad Ultimate SleeveCase which I am reviewing here. The reason I went for the ultimate case is because I could use it in two ways.
The first is like a messenger bag. I ordered the sleeve with d-rings on the side which would allow me to attach a shoulder strap and carry the ipad sleeve over my shoulder. I also got it with a small pouch that also attaches to the d-rings which I could use to carry more stuff like my phone and camera and when traveling I could put my passport and other items in the pouch. That way I travel very light, just the iPad in the sleeve and a few important items in the pouch.
Now the second way I can use this is just like a regular sleeve. I disconnect the strap and pouch from the d-rings and I end up with an iPad sleeve which I could insert into a larger bag.
The build quality as usual is incredible. The bag is made in San Fransisco and the material they use is very durable. The sleeve is padded very well and the inside is covered with screen cleaning Ultrasuede® lining so you basically clean your iPad every time you take it in and out of the case. The cost of my sleeve was $89 without shipping. Depending on your configuration it can either increase or decrease. The sleeve alone without the d-rings, pouch and shoulder strap is $55 for example. Here is a link to their website [Link]