Posted by Mark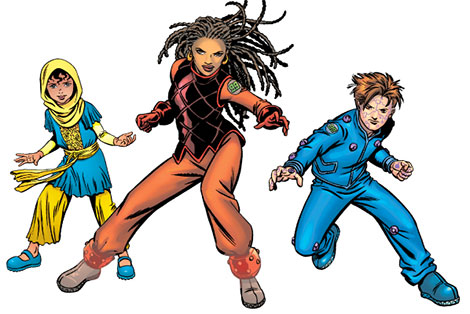 The locally created The 99 comics has been banned in Saudi Arabia for religious reasons and the creator Dr Naif Al Mutawa is also being sued locally.
However, Al Mutawa, the CEO of Teshkeel Media Group has vehemently defended his work, saying that it had won universal praise, including from the Emir of Kuwait and President Barack Obama.

"Those who are attacking men are claiming that I am using the 99 Holy Names of God for my characters," he said. "However, I never thought they would go as far as accusing me of blasphemy and atheism. I am surprised that this is happening in Kuwait, a country of law that respects the Constitution and freedoms," he said.
Al Mutawa said that his work was under an Islamic company and funded by an Islamic bank.

"We have succeeded in presenting a positive image about the Islamic culture at international events. We had a role in dissipating the negative images of terrorism and killing that people had of Arabs. The series is being shown in 70 countries across the world," he said. [Article]
The 99 is a comic book featuring a team of superheroes based on Islamic culture and religion that became a worldwide sensation. Dr Naif was featured on the front page of CNN previously as well as being mentioned by Barrak Obama in one of his speeches.