Posted by Mark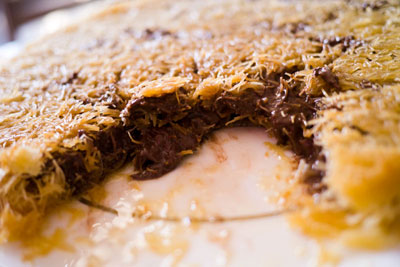 After finding out about the Nutella Kunafa a few days ago I asked @PinkElephant73 if she could attempt to replicate it since she had already replicated Cronuts a few weeks ago. Next day behold I get a large pan of Nutella Kenafeh delivered to my door. Surprisingly, Kunafa and Nutella do mix well together (then again what doesn't mix well with Nutella). It's an extremely heavy and super fattening dessert thats for sure. No idea how many calories and not interested to know either. I felt so guilty after eating a quarter of the tray that I went for an 8KM run right after to try and burn off whatever I could. If you're interested in making it yourself, @PinkElephant73 was nice enough to share the recipe along with pictures. Check it out below:
——————————————-
Let me start by saying that this recipe is not for the faint at heart – it's basically a lot of butter, a lot of Nutella, and only some kunafa dough. But it's freakin' awesome.
The cast of characters! Yes, that is 400g of butter (Sorry, Mark!). You won't be using the whole thing, I promise! But, it makes for a more flavorful kunafa! Also, a big jar of Nutella and some kunafa dough that you can find fresh or frozen from Sultan Center.
First things first: preheat your oven to 220°C! A nice hot oven makes for a great crunchy kunafa!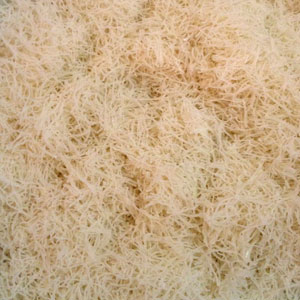 Cut the kunafa dough with a pair of kitchen scissors till you get small shreds. If you're going to use frozen phyllo dough, be sure to thaw it a few hours before using it! It makes cutting it so much easier.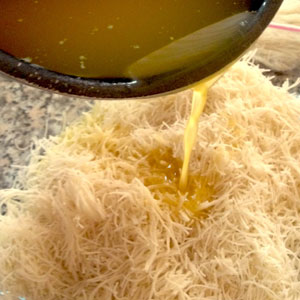 Next, pour the melted butter onto the kunafa little by little and stir it in to ensure all of the dough is evenly coated with butter. Watch out for this step! You don't want to over-soak the kunafa with butter; otherwise you'll get a really greasy crust, and no one likes a greasy crust.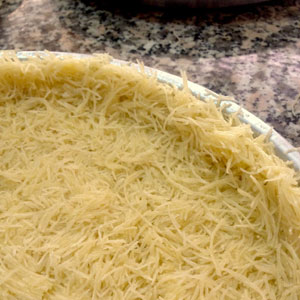 Spoon and press the buttery dough into two 9″ round pans. In one of the pans, press some more of the dough up and around the sides of the pan to make a shallow "well" for the Nutella. Bake those babies for 30-40 minutes, checking immediately after 30 minutes to make sure they haven't burned.
When the crusts are a deep golden brown, they're ready! Take 'em out and let them cool.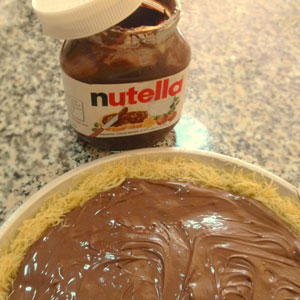 Then, pour the Nutella into the pan with the kunafa sides as little or as much as your heart desires. Resist the urge to lick the spoon when you're done (I couldn't).
Flip the other kunafa onto the Nutella-filled one. I couldn't take a picture of this step because I was too busy trying not to royally screw it up. I would say this is the hardest part.
Then, flip the entire thing onto your serving dish and voila! Nutella Kunafa!
You can do deconstructed versions of this by just toasting the buttery phyllo dough on a sheet pan as you would granola and layering it with Nutella into small serving cups. However you choose to eat it, factor in some time for a quick work-out after you're done. Enjoy!