Post by Mark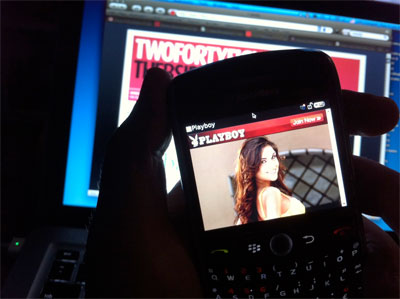 A reader emailed me an article in which Kuwait asks BlackBerry to block around 3000 porn sites so I went to myself what? I opened my browser on my BlackBerry and typed in playboy.com and hit go and guess what? It opened! Why didn't anyone tell me about this before? I never knew I could access blocked sites on my BlackBerry.
Kuwait has asked BlackBerry maker Research in Motion (RIM) to block pornographic sites though will not suspend services like other Gulf states have threatened to do, a local newspaper reported Tuesday.

RIM has given "initial approval" to block 3,000 porn sites at the request of Kuwait's communications ministry, the al-Jarida daily said, quoting a source it did not identify by name.

It said the Canadian manufacturer asked the ministry to give it until the end of the year to implement the block.
It's also good to know that the BlackBerry service won't be blocked in Kuwait. Here is a link to the [Article]
Thanks Deborah