Post by Patrick
Last night I got the chance to watch the premier of the new James Bond movie Skyfall at Grand Cinemas in the Al Hamra Tower. As soon as I got to the floor Grand Cinemas was located on we were given a goodie bag by Aston Martin, that included an iPhone 5 case with the Skyfall logo on it and some other Aston Martin branded merchandise. The attendants were quite helpful, answering our questions and giving us directions to which theater we'd be seated in. We then were able to get some popcorn and soda. They only had regular popcorn available and no water, that will obviously change once Grand Cinemas opens. The first thing I noticed as soon as I entered the theater was just how cold it was. Movie theaters tend to get chilly, but it was incredibly cold, much colder than other theaters. The seating was quite comfortable and the only real negative thing (beside it being too cold) that bothered me was that they kept the "Exit" signs lit up throughout the movie which caused a green glare on the side of the screen which was slightly distracting at times.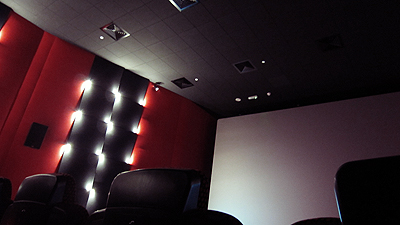 Once the show started, about 15 minutes of advertisements for Aston Martin played which wasn't a big surprise since it seemed like they were the ones who helped put this event together. Once the movie began, I instantly noticed how the image seemed crisper and sharper on the screen. It was a good sign. Then about 10 minutes into the movie, the sound was acting up, we couldn't hear what the characters were saying but we could still hear the music and the sound effects. It felt like we were watching a silent movie. After a few minutes of that the entire sound cut which happened a minute or so before the movie intro credits started rolling. This situation also made things kind of awkward because you could hear people all around you just crunching away at their popcorns while the theater stayed surprisingly quiet throughout this whole ordeal. This went on for a good 10 or 15 more minutes, I was thinking of walking out of the theater because the movie was basically being spoiled. Then one of the guys in charge walked in and made an announcement that the theater amplifier blew out and that they needed a few minutes to switch it out. Not sure how an amp could blow out at the very first show, but apparently it did. As soon as he left they thankfully stopped the movie. Sure enough a few minutes afterwards the movie had started, the movie was rewinded to where the technical errors began and the sound was working. After that it was smooth sailing, I really liked how crisp the image was and the volume of the movie was just loud enough. Did I mention how it was cold? It became nearly unbearable near the end to the point that it became distracting.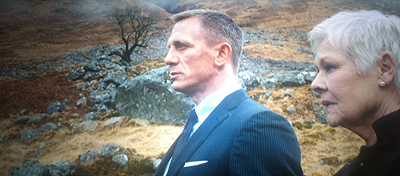 Now about the movie. I'm going to come out and say this right away, Skyfall is probably my favorite Bond movie. Daniel Craig and Javier Bardem were both fantastic and seemed to feed off each others on-screen energy. Bardem's role as the villain was really memorable and his character will be remembered for a long time. Sam Mendes did a great job at directing this movie which includes one of my favorite fight scenes that I've experienced in a movie, the cinematography, the lighting, the intensity of the scene, it was just beautifully shot. The movie had some amusing moments, some charming Bond moments, it was aggressive when it needed to be and it was surprisingly dark at times, especially for a Bond movie. Bond movies are usually more upbeat and they're typically about Bond being nearly superhero like, saving the day. Let me put it this way, Skyfall is to Bond as The Dark Knight was to Batman. This movie release is going to coincide with the 50th anniversary of James Bond and the movie features some neat little nods to past Bond movies and in a way, there were segments in the movie that felt like old-school Bond. It's a little on the longside though, running at about 2 hours and 30 minutes long but it is definitely worth the watch.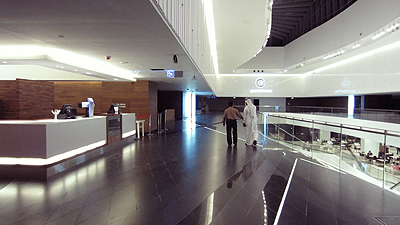 So all in all, I feel like Grand Cinemas will be a great addition to Kuwait. Except for that little incident regarding the sound which was fixed, the only downside of last night was how cold it had gotten, I'll just remember to bring a coat next time I decide to watch a movie there.
Posted by Patrick