Posted by Mark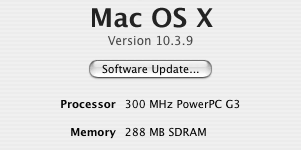 Last month I purchased an old 300mhz Apple clamshell iBook. It had 32MB of RAM and was running OS 9.2 slowly. So I ordered a Kingston 256MB RAM stick for my iBook and it arrived earlier in the week. The first thing I did once I installed it was to replace OS 9.2 with Linux. The reason simply was I needed to be able to browse on the iBook and Firefox wasn't available for OS 9.2 and I had heard OS X would run very slow on my Mac. So Linux was my only option and after over 1 hour of installing the OS I tried it out and was very disappointed. Although it was very responsive and it did have Firefox, I wasn't very comfortable using it and I decided to give OS X a shot. If OS X turned out to be very slow then I would come back to Linux as my last option.
I formated the drives and proceeded to install Panther (OS 10.3) onto my ibook. Installation was brisk and in less then 30 minutes it was done installing and rebooting. When the OS launched again I played around with it a bit and I was shocked. Panther was pretty responsive and very very usable. It was not slow, there was no lag and I wasn't even bothered by the 800×600 screen resolution. I was simply amazed at how well everything was running. I quickly copied Firefox and Adium from my main mac at home and proceeded to set things up importing my bookmarks and setting up my system preferences, everything ran extremely smooth and I even managed to install OS 9.2 in case I ever needed it.
After a week of using my iBook it has finally become my main Internet browsing portal. I am getting online from my living room while watching TV and I am really enjoying it. Sure I could be surfing from the living room with Nat's powerbook but its not mine and even when I setup my own account on her powerbook it still always felt as if I was using HER powerbook. My previous Internet portal in the living room was my Audrey and I think I will have to find another place for it (maybe the bathroom) since because of my iBook I am no longer using it. This iBook is mine and I feel right at home with it… until the next generation of iBooks get released. So far its great and I even am posting from it right now. So in conclusion a Mac capable of running OSX smoothly cost me KD25 ($85) for the iBook and KD12 ($40) for the RAM. Unbelievable fucking cheap!