Post by Mark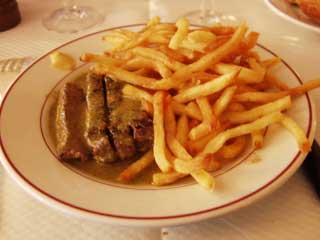 Yesterday I went with Nat for lunch at Le Relais de l'Entrecote in Al Fanar mall. I've past by the place from outside numerous times before but I was never interested in going in because the place looked really boring. Nat had been there before and both Nibaq and Rampurple seem to frequent it often so I figured I would give the place a shot.
Firstly its important to note that l'Entrecote serve only one dish and its steak with fries, so if you are expecting a menu with a sellection of dishes you will be disappointed. When I first went in and sat down I felt kind of let down. I was expecting l'Entrecote for some reason to be a lavish restaurant (I guess because of its name and location) but it actually felt cheap. The tables were small, light and flimsy, and they were covered in white paper sheets similar to the ones used at those sea food places in Fisherman's Wharf. The only thing is that at the sea food places you are smashing crabs open on the table, at l'Entrecote you are not doing anything close to that so I don't see the need for the cheap looking paper sheets. First impressions weren't that good.
The head waiter came to our table after we were seated and asked us how we liked our meat to be done, we both said well done and he then asked for our drinks, I had a coke and Nat had a small bottle of water. He scribbled down our order on the paper sheet on the table and left… so thats why they use paper sheets, how creative (I'm being sarcastic here). Two minutes pass by when the waitress comes with 2 bottles of coke and no water, we tell her its supposed to be 1 coke and 1 water (pointing at the scribble on our table for proof) so she goes and gets the water. A few minutes later our salad arrives and its the most boring salad ever, its just lettuce, nothing else. I dig into it since I was hungry and surprisingly the salad dressing was pretty good. When we were done the waitress asked us if she should serve our main meal. I was bit surprised again, that was pretty quick, it had only been 15 minutes since we came in and ordered, how did our steak get done so quickly? I guess since they only serve one meal they can always be preparing the food non stop even before someone orders a dish.
The main dish arrived and it was a pretty simple setup. Half the plate was fries, the other half sliced up steak with some sauce on it (See picture above). I liked the arrangement, and the food looked pretty appetizing so I dug in. The food was good, the meat was tender and the sauce was really tasty. Even though I had ordered my meat well done it was a bit pink on the inside, I didn't mind it but I know some people wouldn't eat the meat if its a bit pink and thats why they order it well done, so, they kinda fucked up there. The fries was good specially if eaten with the sauce. When we were done with our plates the waitress came and gave us a refill. Everyone gets one refill, its like when you order the milkshake at Johnny Rockets. They bring you your glass filled with milkshake plus an extra steel container with more milkshake in case you need one more refill. At l'Entrecote they bring you a steel dish with extra fries and meat in case you need one more refill, pretty cool.
Finally we were done with our lunch. The whole process took less then an hour which was pretty impressive since I hate staying long at a restaurant (I am a come in, eat and then leave type of guy). We get the bill the total was around KD14 including the two drinks, but I am having a hard time figuring out if thats a decent price or not. The location of the place being Fanar Mall and the name being French gives the place a bit of elegance. But the setup inside and the presentation of the food and even the food itself points more towards casual dining. I think a total of KD12 might have fit the bill better.
Overall I didn't find the place that interesting or special. I didn't enjoy the seating inside, the table setup looked very cheap and the fact that the place only has one dish really makes it hard for me to give this place a really high rating. The food was good and filling so thats where the majority of the points will be coming from but it won't be enough to give it anything higher then a 3.5 out of 5.