Posted by Mark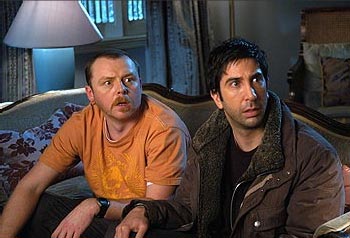 I haven't posted a movie review in a while because as usual, most of the movies I watch turn out to be average. Big Nothing on the other hand surprised me because it actually turned out to be really cool and absurd.
The comedy stars David Schwimmer the guy from the tv show Friends and Simon Pegg, the guy from Shaun of the Dead. David plays the role of unemployed teacher who goes to work at a call center where he meets Simon who convinces him to join him in a simple blackmailing scheme. The scheme turns out to be anything but simple with twisted murders and lies.
Simon Pegg as expected is extremely comical while this is probably David Schwimmer's best movie yet. The movie takes a lot of unexpected twists and turns that you spend the whole time laughing because you can't believe what just happened. The way their simple plan falls apart over and over and over is just ridiculous! It was really entertaining to watch and isn't long clocking in just 86 minutes. So for the final score I give it a 4 out of 5.