Posted by Mark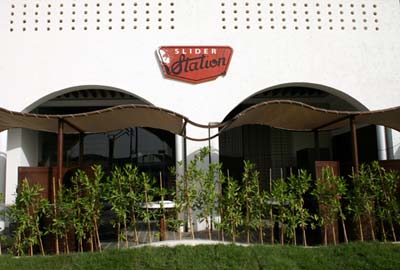 Slider Station is a new restaurant that opened up around a month ago. Its a local creation by the same guys behind Burger Boutique. I passed by yesterday night with Nat and a friend for dinner and I left the place extremely impressed and I will tell you from now that I gave the place a full 5 out of 5 rating without the slightest hesitation.
Since the place is pretty small you need to call ahead to reserve a spot. We called on Friday to reserve 3 places at the bar for Sunday night. I had seen the actual location before it was built, I saw sketches on how it would end up looking like and I even so pictures of the interior taken by various other bloggers after Slider Station was launched but even though, when I got to the place I was astonished. Pictures really don't do the place any justice. I think its currently one of the nicely designed places in Kuwait, everything about it from the walls, to the chairs to the food conveyor belt, everything was paid attention to.
The food conveyor belt, thats the reason we asked for the bar seats. One of the coolest things at Slider Station is the large u-shaped bar taking up the majority of the space on the ground floor. Its surrounded by very comfortable seating and the bar has a built in conveyor belt. Each group at the bar is assigned a number and they serve your food by rolling it out on the conveyor belt. For example our number was 1 so all the dishes that came out on the conveyor belt with the number 1 in front of it was ours. Its a nice gimmick that is both practical and fun. The music that was being played was really cool and their choice of plates, cutlery and glasses were just spot on.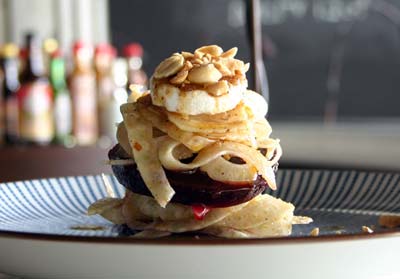 I could talk more and more about the actual look of the place but it would all mean nothing if the food wasn't any good. The most popular burgers at Burger Boutique are the sliders. Sliders are mini burgers simply put and what Slider Station did was take them to a different level. I don't know exactly how many different sliders they have but I think they were over 15 variations ranging from beef, to chicken to fish. Unlike in Burger Boutique where sliders come in groups of 4, at Slider Station, each slider order is just a single slider. This makes things A LOT more fun since you could mix and match sliders as you wish. I personally ordered the Roast Beef slider, the Wagyu slider with mature english cheese, the Caribbean crab slider which is a crab burger with a delicious mango sauce, and finally a Hammour slider. For appetizer we had two types of fries, the regular and the extra thin and crispy one. We also had buffalo wings and duck quesadillas. Everything was just really good, the presentation, the flavor, the buns, it was just perfect. There wasn't anything I could find wrong with the place but I hadn't ordered the dessert yet so before I could give it a final score I had to try their chocolate pudding. As you could already guess, I must have liked the dessert or else I wouldn't have given the place a full five out of five. Yes, the chocolate pudding rocked!
So, good food, good atmosphere, good variety and good prices. I don't know of any other restaurant in Kuwait that deserves a better rating. Final score five out of five. To get reservations call 2465047. They are open from 7PM to 11PM. You can also check out their blog by going to www.sliderstation.com
Pictures taken from SliderStation.com
note: I forgot to mention, they are located on the Gulf Road between Seef Palace and the House of Parliament.