Posted by Mark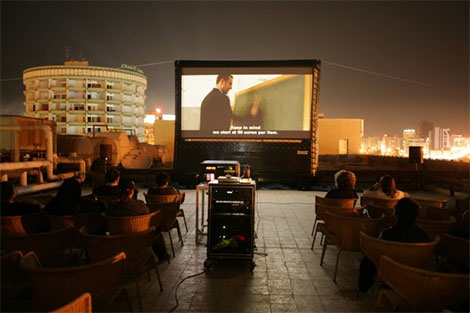 Below is this months schedule for Cinemagics rooftop movie nights. If you've never been to them before, they're held twice a week, every Thursday and Saturday on top of the building that has Xcite in old Salmiya. I'll also be listing the movies individually in the Events section to make it easier to track on a weekly basis. Here are this months movies:
Thursday, March 6th 2014 at 7:30PM
GOOD NIGHT, AND GOOD LUCK
Winner of over 42 international awards, and nominated for 6 Academy Awards, Good Night and Good Luck takes place during the early 1950's under the threat of Communism most famously exploited by Senator Joseph McCarthy. CBS reporter Edward R. Murrow and his producer Fred W. Friendly decide to take a stand and expose McCarthy for the fear monger he was, playing a huge role in bringing down one of the most controversial figures in American history.
Saturday, March 8th 2014 at 7:30PM
VICKY CRISTINA BARCELONA
Considered one of the best films of 2008 by numerous critics and winner of multiple awards mostly focussing on the incredible screenplay by Woody Allen and the extraordinary performances (with emphasis on Javier Bardem and Penelope Cruz). Two girlfriends on a summer holiday in Spain become enamored with the same painter, unaware that his ex-wife, with whom he has a tempestuous relationship, is about to re-enter the picture.
Thursday, March 13th 2014 at 7:30PM
A WOMAN UNDER THE INFLUENCE
The third in our Cassavetes series, where we'll be showing a film every month by acclaimed legendary independent filmmaker John Cassavetes, who is known as the father of independent American cinema. This uncompromising portrait of domestic turmoil details the emotional breakdown of a suburban housewife and her family's struggle to save her from herself. Gena Rowlands and Peter Falk give unforgettably harrowing performances as a married couple deeply in love but unable to express their ardor in terms the other can understand. This landmark American film is perhaps the most beloved work from the extraordinary John Cassavetes.
Saturday, March 15th 2014 at 7:30PM
SURPRISE MOVIE OF THE MONTH
Every month we'll be playing a surprise film, where you won't know what you're watching until just a minute before the film begins. One thing is for sure, every month the surprise film will be either my favourite film of the list, or the most unique in one way or the other. This month's film was won and was nominated for over 87 awards worldwide (including 6 academy award nominations this year), with great emphasis on the fascinating performances and the hilarious but moving script. With a veteran director at the helm who has created his own style of filmmaking unique to himself, the film has creeped into people's hearts worldwide. Not to be missed!
Thursday, March 20th 2014 at 7:30PM
MAN PUSH CART
Making its debut at the 2005 Venice Film Festival and considering one of the best films of 2006 by many critics (including the late great Roger Ebert), Man Push Cart follows a night in the life of a former Pakistani rock star who now sells coffee from his push cart not he streets of Manhattan.
Saturday, March 22nd 2014 at 7:30PM
DRY SUMMER (Martin Scorsese's World Cinema Project)
Every month, we'll be playing a film from the World Cinema Project. Established by Martin Scorsese in 2007, the World Cinema Project expands the horizons of moviegoers everywhere. The mission of the WCP is to preserve and present marginalized and infrequently screened films from regions generally ill equipped to preserve their own cinema history. This month's film is Dry Summer. Metin Erksan's wallop of a melodrama follows the machinations of an unrepentantly selfish tobacco farmer who builds a dam to prevent water from flowing downhill to his neighbors' crops. The film went not to win the Golden Bear (Best Film) at the Berlin Film Festival.
Thursday, March 27th 2014 at 7:30PM
FARGO
Winner of 62 worldwide awards including Best script and Best Actress at the 97' Oscars, and Best Director at the Cannes Film Festival, alongside being considered one of the greatest films of all time by the AFI, Fargo needs no introduction really. Produced, directed, written, and edited by brothers Joel and Ethan Coen and starring Frances McDormand as a pregnant police chief who investigates a series of homicides near Brainerd, Minnesota and William H. Macy as a struggling car salesman who hires two criminals to kidnap his wife.
Saturday, March 29th 2014 at 7:30PM
RUSSIAN ARK
Renowned as the film that captured the longest single running take in cinematic history (the film itself being a 98 minute non-stop mesmerizing tracking shot). Of the film itself, acclaimed critic Roger Ebert wrote, "Apart from anything else, this is one of the best-sustained ideas I have ever seen on the screen…. The effect of the unbroken flow of images (experimented with in the past by directors like Hitchcock and Max Ophüls) is uncanny. If cinema is sometimes dreamlike, then every edit is an awakening. Russian Ark spins a daydream made of centuries."
Cinemagic is organizing these events as part of its efforts to contribute to the development of an internationally competitive Kuwaiti audio-visual production industry, partly by bringing the filmmakers and audiences together and by increasing the public's interest in – and appreciation for – the art of film-making. Cinemagic movies are screened in the old Salmiya, on the rooftop of Xcite and LG [Map]. There is no entrance fee. Here is a link to their Facebook group [Link]