Posted by Mark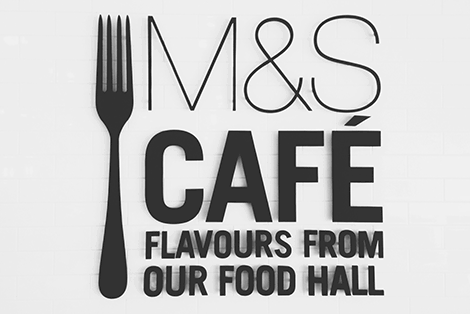 The largest Marks & Spencer store outside the UK opened up in Kuwait right next to Missoni Hotel recently so I passed by yesterday to check it out because I had heard they had a large food hall along with a cafe. Whenever I'm in London I usually pass by M&S to pick up a quick bite to eat like a sandwich or a quinoa salad and I was hoping they'd have the same items here.
The new store is huge, it's four floors with the food hall being located on the last one. The new food hall is divided into 3 sections, the first one is similar to the food sections at the other Marks & Spencer's and contains non perishable goods like pasta and canned food along with frozen food. The other two sections are new, the first one is a small bakery that sells bread, pastries, muffins etc.. and finally the final section is a cafe.
The cafe is similar in style to IKEA's except with less hot food. Their small menu mostly consists of soups, salads, baked potato, a pizza, quiche and some desserts. The seating area seems quiet and cozy so it might be a good place to study or read a book.
Disappointingly they didn't have a fridge with healthy food for me to pass by and pick up when I'm hungry. I can imagine it wouldn't be very feasible especially since they don't have high foot traffic when say compared to the Marks & Spencer on Bond Street Station but still, one always hopes. With the success of Gia I'm hoping more people realize that there is a market for healthy food in Kuwait.