Posted by Mark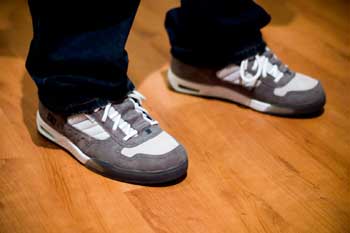 I got my new sneakers today from Aramex. I ordered them from Amazon since I can't find the DCSHOE's brand in Kuwait. I only wear DC's, they are the most durable sneakers I have found and combined with my brother we have tried everything from DVS's to Vans and DC's always outlasted them all. I don't skateboard (my brother does) but I only buy skateboarding shoes since they look really cool and they are built to withstand some of the harshest treatment.
My new sneakers are from the new DCSHOE's Danny Way signature series. They fucking rock. Here are some technical features:
Super Suede
50% more durable, lasts longer, feels like regular suede
DGT Dynamic Grip Technology
DGT is engineered around the fact that each part of a skate shoe's sole does different things, and wears out at different rates. With DGT, there's soft rubber for control on ollies and flips. There's medium rubber for grip and traction. Finally, there's a tougher, thicker rubber for durability where it's needed most.
Airbag
DC's high performance skate shoes have a thermoplastic urethane airbag to provide cushioning in either the forefoot or heel area
Performolite Polyurethane
DC developed its very own exclusive composition of polyurethane and dubbed it Performolite. It's softer and much lighter then standard polyurethane.
For more info on DCSHOE's check their website [Link]