Posted by Mark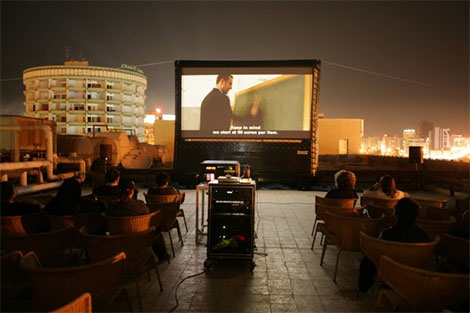 Below is this months schedule for Cinemagics rooftop movie nights. If you've never been to them before, they're held twice a week, every Thursday and Saturday on top of the building that has Xcite in old Salmiya. I'll also be listing the movies individually in the Events section to make it easier to track on a weekly basis. This will most likely be the last month of rooftop movies since the weather is getting hotter. I would highly recommend watching Close Encounters of the Third Kind, it's a classic and one of my all time favorites.
Thursday, April 3rd 2014 at 7:30PM
CLOSE ENCOUNTERS OF THE THIRD KIND
Considered one of Speilberg's most essential films, Close Encounters of the 3rd Kind is a film that needs no introduction. Winner of countless awards, it has earned its place as one of the masterpieces of American Cinema. Ray Bradbury declared it "the greatest science fiction film ever made." Jean Renoir compared the storytelling to Jules Verne and George Melies. Francois Truffaut loved the script so much he agreed to be cast in an essential role. A film that has inspired endless incarnations, and carrying one of the most iconic scores of all time by the great John Williams, Close Encounters continues to be an event film even today, almost 40 years after its original release.
Saturday, April 5th 2014 at 7:30PM
THE HOUSEMAID (Martin Scorsese's World Cinema Project)
Every month, we'll be playing a film from the World Cinema Project. Established by Martin Scorsese in 2007, the World Cinema Project expands the horizons of moviegoers everywhere. The mission of the WCP is to preserve and present marginalized and infrequently screened films from regions generally ill equipped to preserve their own cinema history. This month's film is The Housemaid. A torrent of sexual obsession, revenge, and betrayal is unleashed under one roof in this venomous melodrama from South Korean master Kim Ki-young. Considered to be one of the top 3 korean films of all time by koreanfilm.org.
Thursday, April 10th 2014 at 7:30PM
THE KILLING OF A CHINESE BOOKIE
The fourth in our Cassavetes series, where we'll be showing a film every month by acclaimed legendary independent filmmaker John Cassavetes, who is known as the father of independent American cinema. A proud strip club owner is forced to come to terms with himself as a man, when his gambling addiction gets him in hot water with the mob, who offer him only one alternative. Ben Gazzara brilliantly portrays the gentleman's club owner, Cosmo Vitelli, desperately committed to maintaining a facade of suave gentility despite the seediness of his environment.
Saturday, April 12th 2014 at 7:30PM
PLAYTIME
Jacques Tati's visual masterpiece, shot in glorious 70mm and inspiring an entire generation of filmmakers (most notably Peter Sellers) who tried to emulate his subtly, comedic timing, and visual style, Playtime is structured in six sequences, linked by two characters who repeatedly encounter one another in the course of a day: Barbara, a young American tourist visiting Paris with a group composed primarily of middle-aged American women, and Monsieur Hulot, a befuddled Frenchman lost in the new modernity of Paris. Surreal, magical, and not to be missed.
Thursday, April 17th 2014 at 7:30PM
SURPRISE MOVIE OF THE MONTH
Every month we'll be playing a surprise film, where you won't know what you're watching until just a minute before the film begins. One thing is for sure, every month the surprise film will be either my favourite film of the list, or the most unique in one way or the other. This month's film is an enigmatic piece of poetry, highlighted by a beautifully nuanced lead performance (which won many Best Actress awards worldwide) and a goosebump inducing score. Shot masterfully by acclaimed cinematographer Slawomir Idziak, this film is unlike anything you've seen before, and will last with you far after you leave the screening.
Saturday, April 19th 2014 at 7:30PM
EASTERN PROMISES
Winner of the audience prize at the Toronto Film Festival, featured on over 20 top ten lists of its year, and nominated for countless awards, most notably for Viggo Mortensen's mesmerizing lead performance, Eastern Promises begins as a typical gangster story before flipping the entire genre on its head. Uniquely paced, with a not so typical central struggle on hand, this was the film to solidify Cronenberg's return to form (after his comeback with A History of Violence). A Russian teenager living in London dies during childbirth leaving clues to a midwife in her journal that could tie her child to a rape involving a violent Russian mob family. Her investigation into uncovers layers that challenges the audience's expectations.
Thursday, April 24th 2014 at 7:30PM
GEORGE WASHINGTON
One of the best reviewed films of 2000, and the film responsible for launching David Gordon Green's flowering career (who after a dip in the quality of films returned this year with the two critically acclaimed films Prince Avalanche and Joe), George Washington tells the story of A group of children, in a depressed small town, who band together to cover up a tragic mistake one summer.
Saturday, April 26th 2014 at 7:30PM
CERTIFIED COPY
Iranian cinematic master Abbas Kiarostami's first foray outside of his native Iran and into French Cinema, Certified Copy takes place in Tuscany, where to promote his latest book, a middle-aged British writer meets a French woman who leads him to the village of Lucignano. While there, a chance question reveals something deeper. Through a wonderful performance by the always magical Julliette Binoche (for which she won the Best Actress prize at the Cannes Film Festival), Abbas Kiarostami achieves a universal film, between levity and drama, about the feelings that are diluted over time.
Cinemagic is organizing these events as part of its efforts to contribute to the development of an internationally competitive Kuwaiti audio-visual production industry, partly by bringing the filmmakers and audiences together and by increasing the public's interest in – and appreciation for – the art of film-making. Cinemagic movies are screened in the old Salmiya, on the rooftop of Xcite and LG [Map]. There is no entrance fee. Here is a link to their Facebook group [Link]