Post by Mark
This past weekend the Kuwait Mile event was held where around 500 cars signed up to race down a mile long strip of the highway. The event was a success with lots of interest but sadly there were two accidents (which I am aware of) that took place that day. Accidents at a racing event are absolutely normal but what I was surprised with was the lack of safety barriers between the track and the crowd.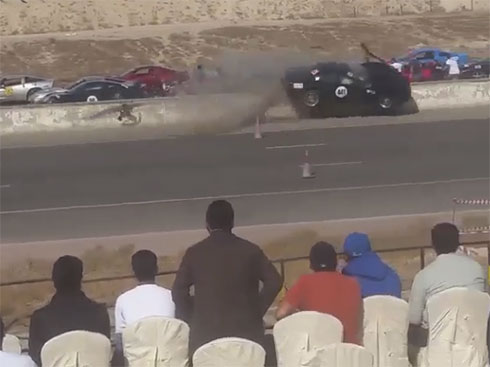 In the video on top of one of the accidents, the car loses control and luckily crashes into the barrier on the left. If the car had headed to the right instead then there might have been some serious injuries since there was only a metal fence separating the viewers from the track (check the screen grab above).
After I found out about the accident I started checking out photos and videos of the event and noticed a fire truck parked on the side of the track. I quietly thought to myself that can't be safe for the driver if his car crashes into it and I thought of the Jules Bianchi crash in Suzuka this past year. Later on in the day a car crashed hard into the fire truck and luckily missed some firemen who were standing next to the truck as well.
It's pretty cool that more motorsporting events are taking place in Kuwait but a catastrophic incident at one event would end up setting us back a very long time.