Posted by Mark
Anytime I need to get any paperwork from the government I cringe. In the past month I had two papers I needed to get sorted and in both cases things didn't go so smoothly. I hate how I have to approach all the employees in a way where it's like I am asking them for a favor.
The first paper is related to a business I'm launching. To setup a company I need a paper from my sponsor giving me permission to start a company. I got that paper from him and went to Government Mall (located under the Liberation Tower) to get it notarized. When I presented the document the government employee took a look at it and told me the format was all wrong, he wrote down the proper format, I went downstairs got it typed and came back to show him. He told me it was fine and I now needed to get it signed by my sponsor. So I left and came back two weeks later with the document signed. I went back to the same employee and handed him the signed document, he looked at it and was like what is this? I explained to him what it was and he once again told me it was in the wrong format. I was like what do you mean its the wrong format? You wrote it for me, I got it typed and approved by you and all you said I needed to do was get it signed which I did! He was like no this is the wrong format. I asked him if he could write down what I needed to change, he told me he won't write anything and then shooed me away. I'm now getting someone to get this document sorted for me since I can't deal with that crap again.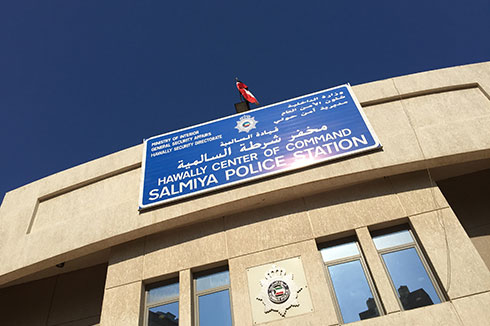 The second paper I needed to get was permission from the police to replace my damaged bumper. I headed to the Salmiya police station and walked up to the information desk and told them what paper I needed. They instructed me to go into the first office on the left. I went to the first office on the left and the police officer there told me to go upstairs. I went upstairs and there were three rooms but only one was occupied. So I walked in and waited until the two police there finished their conversation before I asked the cop seated at a desk about the paper. The cop told me to go to the office next door. I told him I did but there was nobody there. He then got agitated and told me obviously there isn't anybody there since its his office and he can't be in two places at once. As if I was somehow supposed to have know that was his office. So I go wait in his office for a few minutes and then he walks in. He's like I need you to get me a photocopy of your license, car registration booklet and your civil ID. I thought to myself why couldn't you have told me that earlier instead of making me wait here. So I leave the police station and drive to the nearest photocopy shop and then come back with the copies. I go upstairs again and this time the same cop is sitting at a desk in the third room. In my head I thought that was hilarious because it felt like the police station had only one employee who changes offices and pretends to be a different person every time. He ends up filling up the papers and then sends me down to the Salmiya area commander for one last signature.
How I hate this. I know a lot of people (mostly Kuwaitis) would disagree with me on this but I would rather they replaced all the ministry employees with expats. When was the last time you walked into McDonalds and was greeted by a grumpy employee who made you feel like he was doing you a favor?