Post by Mark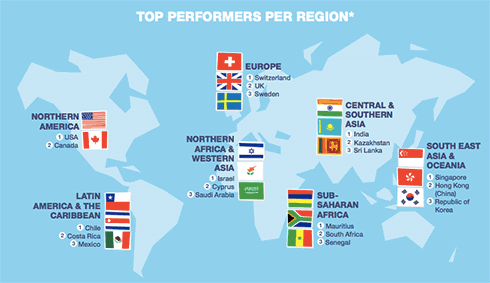 The Global Innovation Index (GII) for 2015 was released last week and Kuwait surprisingly (at least to me) ranked last compared to neighboring GCC states. The GII ranked the innovative performance of 141 countries and economies around the world, based on 79 indicators and Kuwait ended up coming in 77th place in the rankings.
43 – Saudi Arabia
47 – United Arab Emirates
50 – Qatar
59 – Bahrain
69 – Oman
77 – Kuwait
I downloaded the full report to better understand why Kuwait came last in the GCC and so low worldwide and found a few positives and negatives which I've highlighted below.
Positives:
Electricity output, kWh/cap (Rank 1)
Pupil-teacher ratio, secondary (Rank 8)
Ease of paying taxes (Rank 11)
Negatives:
Business sophistication (Rank 132)
Knowledge absorption (Rank 130)
Cost of redundancy dismissal, salary week (Rank 124)
Ease of starting a business (Rank 120)
Check out the full report on the GII website [Here]
Thanks Musaed