Posted by Mark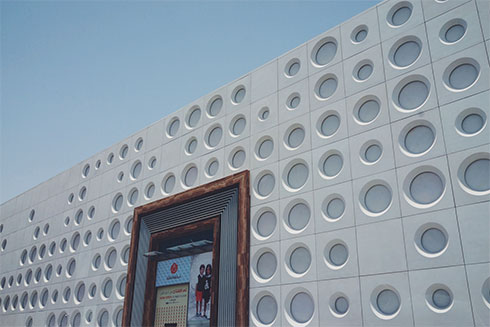 Gate Mall is a new mall that recently opened in Egaila near Al Bairaq Mall. I wasn't really interested in the mall until I saw a photo of the building from the outside in one of my whatsapp groups and thought the mall façade looked pretty cool. So I passed by earlier today to check it out.
First problem, there is no parking. For some reason the mall decided they didn't need parking so the only parking I saw available was a large parking lot outside that is shared by two other surrounding malls. It was before noon on a weekday and I had trouble finding parking so I can imagine it would be near impossible to find parking on a weekend. The only alternative is to park at Al Bairaq mall and then walk through Al Bairaq towards Gate Mall.
Once you walk into the mall though things do get better. The mall is six floors and most of your favorite brands are there including the likes of Zara, Nike, Al Ostoura, Debenhams, H&M, Victoria Secret and Sephora. Food wise there was a Starbucks and Pinkberry open with a number of other places opening soon like Shake Shack, Tim Horten's, Coldstone, Just Falafel, Cafe Baza and Margherita.
There were no movie theaters from what I saw. Other than the major parking issue the mall should prove to be useful for the people living in the area but by no means a replacement to Avenues or 360 Mall. If you want to know how to get to it, here is the location on [Google Maps]